---
The Smart Solution When Silicone Oil is an Issue
Silicone oil is typically applied to the surfaces of elastomeric closures to reduce tackiness (i.e., reduce the coefficient of friction), so that stoppering into vials can be performed easily, and efficient line speeds can be maintained. But, silicone oil can lead to negative effects on parenteral drug products.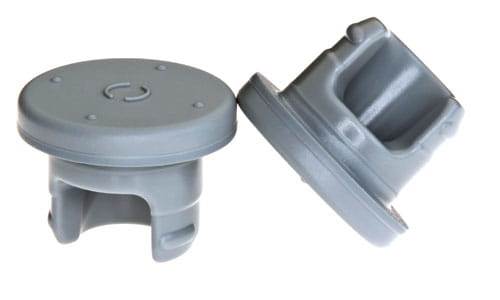 In particular, the use of silicone oil can lead to:
Beading: This is caused by transfer of silicone oil from closures to the glass walls of parenteral containers above the liquid line. Water droplets bead on the glass walls and are considered undesirable.
Turbidity: This is caused by adsorption of silicone oil onto lyophilized drug product, creating a hazy product upon reconstitution.
Particles: Silicone oil can coalesce in aqueous solutions to form droplets. During inspection, these droplets are detected as solid particulates by light obscuration particle counting instrumentation.
The smart solution to overcome silicone oil issues is the use of B2-coating. B2-coating is based upon a cross-linkable polydimethylsiloxane coating sprayed onto the surface of an elastomeric closure. Following application, the elastomer is treated by heat or UV radiation to cause cross-linking and improve coating-to-elastomer adherence. B2-coating ensures reduction in tackiness and enhanced machinability of elastomeric closures, without the need for application of silicone oil. By combining West's controlled manufacturing conditions for B2-coating with its inherent properties, the potential for generation of subvisible particulates is extremely low, thus reducing the intrinsic particulate load of a drug product.
For more on West products and services, contact an Account Manager or Technical Customer Support (TCS) representative; or visit the Knowledge Center.
B2-coating technology is licensed from Daikyo Seiko, Ltd.