Preparation and reconstitution of injectable drugs are often done in batches in hospital pharmacies. Components are often limited to 50 mL or 100 mL IV bags, with connectors for only 20mm diameter drug vials – thus requiring the use of a needle and syringe for 13mm diameter drug vials. It is challenging for staff to prepare exact doses. Portions of the drugs are often wasted. Additionally, pharmacists are tasked with complying with new USP regulations regarding immediate use procedures for drug doses.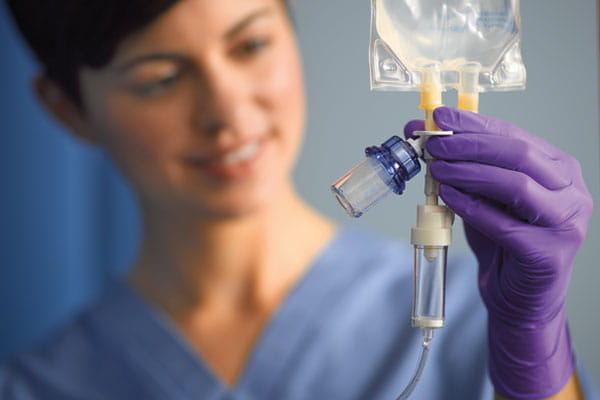 The Vial2Bag® DC admixture system is the only universal admixture system compatible with both 13mm and 20mm diameter vials. It works with both liquid and lyophilized drug vials, and is compatible with IV bags from all manufacturers.
The Vial2Bag® DC admixture system can help to:
Meet the requirements of USP Chapter <797> (Pharmaceutical Compounding—Sterile Preparations) for immediate use
Optimize pharmacy cleanroom time
Reduce drug and fluid waste
Standardize admixture systems for nursing
Hospital staff can prepare, reconstitute and administer critical drug doses to patients at the bedside, ensuring timely delivery without the risk of drug waste. This streamlined process also reduces the number of IV bags that must be routed from the hospital pharmacy to patient floors, provides flexibility in IV bag sourcing and enables reduction of IV bag inventory.
Visit our website or contact West today to learn more about overcoming the challenges of preparation and reconstitution of injectable drugs.
Vial2Bag® is a registered trademark of Medimop Medical Projects, Ltd., a subsidiary of West Pharmaceutical Services, Inc.