---
Working at West in the U.S.
Whatever your job at West, you will help us in our mission to create a healthier world by working by the side of our healthcare partners to save lives, eradicate disease and manage wellness. We empower members of our team to make a difference – to enable them to follow a career that will benefit and support them both professionally and personally.
We are looking for talented people who can help us continue West's success story.
Working At West
At West, we strive to create a working environment where colleagues continually learn and develop. We have outlined sample career paths across various disciplines to provide a better idea of what a career at West will look like for you.
How to Avoid Recruiting Scams
Recently, we have been made aware of a recruitment scam in which people are posing as recruiters from West, asking candidates to go through an interview process, and providing fake job offers. Sadly, this is not an uncommon occurrence—these scammers use many company names in their schemes. For any official West recruitment opportunities, the following steps will take place:
You'll be asked to apply through West's official website: www.westpharma.com
The person e-mailing you or calling you will have an e-mail address that includes our company's e-mail domain: FirstName.LastName@westpharma.com
There will be a formal interview process over the phone, and then in person.
You will not be asked to provide any personal information like your address, social security number or bank information, until you have been offered an official job from West in writing.
Here are some tips for avoiding scams:
Are you being asked to pay equipment fees, travel fees, or make a payment of any other kind – even if they claim that you will be reimbursed? West never seeks fees from job applicants under any circumstances.
Correspondence from free e-mail accounts, like Yahoo, Hotmail or Gmail. West does not solicit candidates through a non-West e-mail address.
Were you contacted in a chat room (e.g., Google Hangouts)? West does not use chat rooms or chat applications for recruiting purposes.
If you have any questions about our hiring process, you can contact us at Talent@westpharma.com or call our Exton office at (610) 594-2900. If someone has contacted you via Google Hangout asking you for money to work at West, we encourage you to report it. Click here to file a formal scam report with Google.
Benefits at West
As an employee, you'll benefit from an environment of engaged colleagues, thought leadership, and opportunities for career advancement and recognition.
"People are the most important asset we have at West. In order to fulfill our mission of being the world leader in integrated containment and delivery of injectable medicines, we must have not only world class innovative products, but world class people to create and deliver them. We are committed to developing our employees and fostering a culture of continuous learning."- Annette Favorite, SVP and Chief Human Resources Officer
Benefits:
Two comprehensive medical plan options available

Prescription drug, dental and vision plans

Employee Assistance Program

4

01(k) Plan

Eligible after a three-month waiting period

Company matches 100% of the first 3% contributed and 50% of the next 2%

Immediate vesting

Employee Stock Purchase Plan
Tuition Reimbursement Program
Service Recognition Program
Scholarship Program
Compensation:
West offers market-competitive salaries
West offers several performance-driven incentive plans
Career Development:
At West, learning and development philosophies are at the core of our common global leadership model. This model identifies competences, tools and methodologies.
Comprehensive onboarding plan
Internal job board
Job enrichment
External training
Mentoring
Coaching
Team development workshops
Emerging Leaders Development Program
Employee Applicant Rights and Responsibilities
West complies with all applicable laws, fair employment practices, and is an equal opportunity employer. We do not discriminate against employees, applicants or any other covered persons because of any characteristic protected under applicable federal, state or local law. All employees, other workers and representatives are prohibited from engaging in unlawful discrimination. Please click here to see our Company EEO Policy, as well as on the links below to view additional ways that West complies with applicable employment laws and regulations.
GIving Back at West
A Caring Corporate Citizen
West has a long and distinguished history of giving back to our communities, and a commitment to philanthropy is embedded in all that we do. The Company contributes to a wide range of organizations working to improve our world. The Herman O. West Foundation, an independently managed 501(c)(3) entity sponsored by West, is committed to giving to children with special needs in the areas and communities where West employees live and work. Additionally, the West without Borders employee-led fundraising campaign encourages active participation at every local West site.
Local Campaigns:
United Way

Leukemia and Lymphoma Society

Food Drive

Camp Victory

Fox Chase Cancer Center
Internships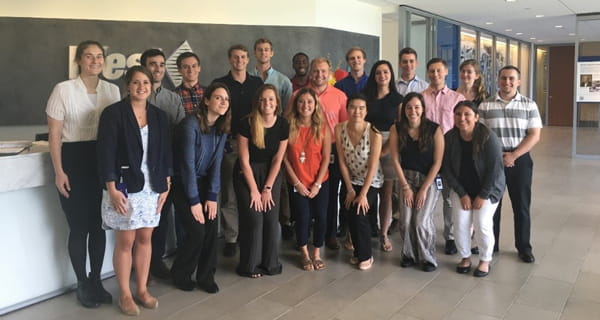 West offers a 10-week, fully paid, exciting summer internship program instrumental in shaping future careers. At West, we value the insight and fresh perspective our interns bring to the table. 
During students' time at West, they work alongside industry experts who guide and challenge them. Interns receive real-world practical experience, participate in multiple philanthropic events, and collaborate with other interns and Company leaders. On top of tangible, marketable skills, interns will also gain many intangibles – stronger communications skills, adaptability and the ability to balance multiple projects.
At the end of 10 weeks, student interns have a deeper understanding of the possibilities that await them after graduation.
Applications for summer Ambassador Internship Programs begin in September. Visit the Job Opportunities page in September to browse available internships. 
Positions available in:
Accounting | Communications | Engineering | Sales | Marketing | Information Technology | Finance | Supply Chain | Human Resources
Ambassador Internship Spotlight:
"I gained an invaluable experience ranging from knowledge directly related to my academic background to intangible advice, like how to position myself to achieve my long-term career goals. My supervisor gave me projects that I found interesting and challenging, but that would also have a meaningful impact on the company even after my internship ended. These 10 weeks, surrounded by intelligent good-natured people who love the work they do, went by in a heartbeat."
– Gabrielle L., Quality Assurance Intern
Interested in a job at West?

Worked with
250+
Charities Around the Globe in 2018