Eecho Wang
Specialist, Global Communications
West Wins at the Asia Pacific Vaccine Excellence Awards 2021
We are excited to share that West has been named the winner for Excellence in Fill & Finish at the Asia Pacific Vaccine Excellence Awards 2021 (AVEA 2021).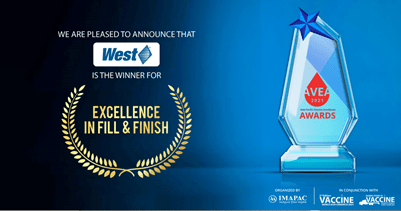 AVEA 2021 aimed to celebrate the outstanding achievements of biopharmaceutical organizations, supply chain experts, and the newest technology solutions deployed in Asia for the development and distribution of vaccines. The award ceremony was held in association with the 3rd Vaccine World Asia Congress 2021 on November 17-18, attracting more than 800 representatives from Asia's top vaccine and supply chain organizations.
West stood out among the five nominees for our technology and high quality products, services, and solutions that have helped to bring vaccines and therapeutics to the market and patients, especially those related to COVID-19.
During the pandemic, vaccine developers have trusted West as a partner of choice to help protect their sensitive biomolecules, and this award recognizes our critical role in the race to deliver vaccines at a high level of efficacy, quality, and safety.
"We are honored to receive this award. It is a true testament to West's almost 100 years of experience and reputation for leadership in quality, as well as the great efforts of One West Team coming together on the mission of improving patient lives," said Stewart Campbell, Vice President & General Manager, Asia Pacific.
Click here to learn more about West's containment and delivery solutions that help to support a healthier world.