---
Flip-Off® Plus RU Seals
Because clean sealing matters
West Flip-Off Plus Seals are designed to meet global clean crimping regulations. Flip-Off Plus Seals ensure optimal usability with a certified bioburden prior to sterilization and premium quality TrueEdge® manufacturing technology.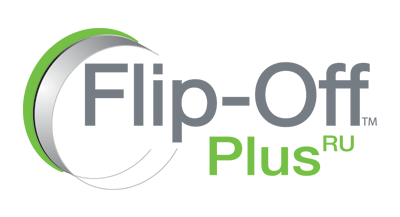 overview
Flip-Off Plus RU Seals:
Deliver validated, industry-proven clean crimping and sterilization processing

Support crimping under Grade A air supply conditions, comparable with an ISO 5 environment.

Combine premium seal manufacturing processes with EMA Annex 1 compliance

Offer an ideal capping solution for drugs sold in EMA jurisdictions and globally due to the specification of seal bioburden prior to sterilization

Available in sterilized or non-sterilized formats



product Attributes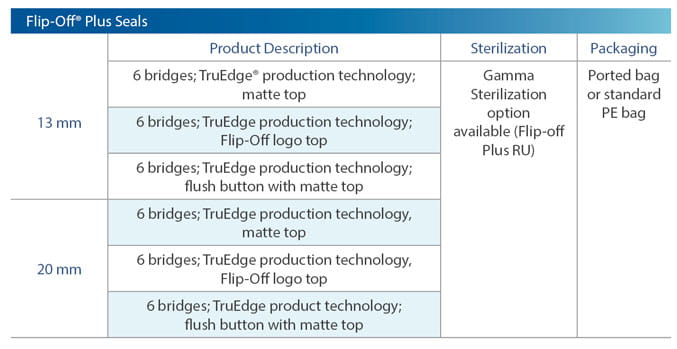 custom solutions
Unique Designs to Meet Your Specific Applications

Every day, West is working by our partners' side to design and manufacture drug packaging and delivery systems that will bring their drugs from concept to patient more efficiently, reliably and safely. West's concept design, development, engineering and project management teams can facilitate all steps necessary to take your product from concept to commercialization, including full validation and chemical and functional testing. Your custom components can be provided in ready-to-use or ready-to-sterilize formats to meet your requirements.
Click here for a real world example of a custom development project between West and a customer.
West Ready Pack®, TruEdge®, Flip Off® and Flip-Off CCS® are registered trademarks of West Pharmaceutical Services, Inc., in the United States and other jurisdictions.
West Spectra™ is a trademark of West Pharmaceutical Services, Inc. in the United States and other jurisdictions.