Caitlin Storbeck
Associate Specialist, Global Communications
West Attends Girls Exploring Tomorrows Technology Event
West team members helped to spread the word about how fun and rewarding technology careers really can be when they attended the Girls Exploring Tomorrow's Technology (GETT) event on March 21, 2015, at the Great Valley High School in Malvern, PA. More than 530 young women attended the event, which encourages middle school and high school age girls to pursue careers in technology, sciences, engineering, and art and design. GETT is a STEM program (Science, Technology, Engineering and Math) designed to ensure students are exposed to scientific disciplines and make them aware of their career options in these fields.
This program was created in response to statistics that indicate girls are shying away from these fields. The trend was highlighted in a 2012 survey from My College Options and STEMconnector, which stated, "Male students are over three times more likely to be interested in STEM majors and careers, compared to female students."
West supported the free, fun, informational event by holding a workshop and sending a group of female employees from the company to engage with students. Attendees learned facts about how technology careers can be fulfilling, fun and rewarding personally, professionally and financially. Lauren Orme, Peggy Frandolig, Lisa Wagner and Monica Habash attended on West's behalf, with support from Lauren Burgess, Whitney Winters, Diane Rychlak and Nicole Whitman. Karen Flynn, President, Pharmaceutical Packaging Systems, also volunteered at the daylong event.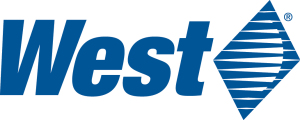 "At West, giving back to the community is at the heart of our corporate culture," said Peggy Frandolig, Director of Technical Customer Support. "As a company invested in developing future scientists, we were thrilled to attend the GETT event to educate these young girls about all of their possibilities in the area of STEM."
West's workshop activity featured a lesson about how to package an injectable medicine. The girls were instructed to place a gummy bear into the vial and go through all the steps to make sure their vial was properly packaged with a stopper and seal, and then crimped to ensure safe and sterile packaging. West employees explained how applying science, technology, engineering and math is a critical part of their day-to-day jobs.
According to Harris interactive for the American Society for Quality, 2009 "21% of girls say their parents encourage them to become an actress, while 10% of girls say their parents have encouraged them to think about an engineering career." GETT aims to steer girls towards STEM-based career choices. More recently in 2012, The Girl Scout Research Institute stated that "more than half (57%) of all girls say that girls don't typically consider a career in STEM."
"Being there to influence those girls and help them realize their potential, made me think about all that they will do one day," said Lauren Orme, Manager of Laboratory Client Services. "It was exciting to be a part of that."