West's Global Communications Team
West Participates in First PDA Europe Annual Meeting–Berlin, Germany
This summer, West Pharmaceutical Services was delighted to exhibit at the 1st PDA Europe Annual Meeting. PDA organized this unique conference about the future of injectables to provide participants with a first-hand opportunity to gain deeper insight into current and future advances in modern sterile manufacturing and quality oversight. West also supported the NovaPure® 1-3 mL plunger launch during the meeting. Throughout the event, attendees were given the opportunity to engage with speakers, industry peers, regulators and exhibitors.
West was actively involved by leading the course, "Development and Manufacturing of Pre-filled Syringes," which was offered during the training workshops. The course provided an overview about practical aspects and trends of developing and processing pre-sterilized primary packaging systems and also focused on hot topics such as aseptic environments, particulates, silicone and single-use filling. Additionally, participants could learn from parallel tracks focused on areas such as Test Methods for Pre-filled Syringes, Cleaning and Disinfection, How to find the Right GMP for API's, and Root Cause Investigation.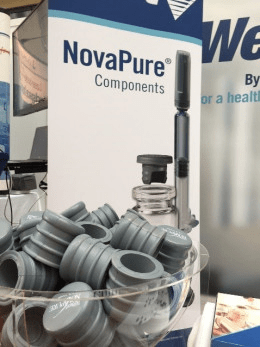 At the show, West showcased a range of high value products and highlighted the 1-3 mL NovaPure Plunger—an innovative, high-quality component for pre-filled delivery systems, designed to reduce particulate, ensure consistency of delivery and fit the changing needs of higher-volume injectable drug delivery systems. Technical details of the 1-3 mL NovaPure plunger were summarized in a comprehensive poster that was displayed on site.
To learn more about meeting visit their website. More information about the NovaPure brand can be found on the West website.