Caroline Hall
Exton Marketing Team Intern
West Interns Tour Jersey Shore
Last month, interns from Exton and the Washington, New Jersey Innovation Center, journeyed to West's Jersey Shore manufacturing plant—that everyone soon learned was not at the beach. The visit provided an ideal opportunity to witness the operations of West's manufacturing business. Upon arrival, interns completed the gowning process in order to adhere to the plant's safety and quality standards. Then, after listening to a brief presentation on the history and differentiating capabilities of the facility, began the tour.
Two returning summer interns had the opportunity to gown further for access to the lab. The remaining group learned about the processes required for compression rubber molding, FluroTec® lamination, B2-coating, and Westar® washing and sterilization. Additionally, the group saw how the actual components are made.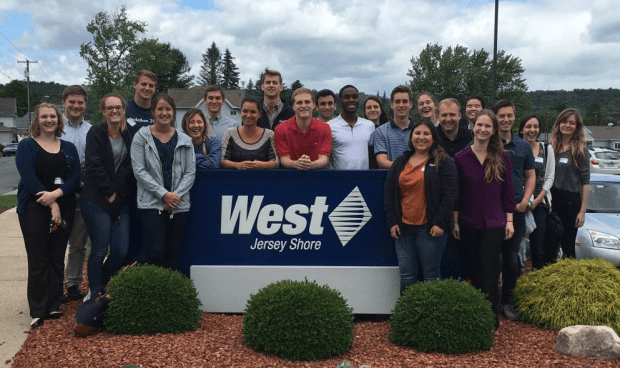 "Getting a firsthand look at processes helped to better understand the intricacies of the machines," said returning intern, Alex Wait. "All of these details pulled the entire scope of the manufacturing process together and we were able to see how West can meet the various specifications."
Intern Patrick Vincent commented on his experience stating, "A more in-depth look of the plant's processes connected the dots for me. Being on the floor really gave a sense of the complex work that West operators do on a daily basis."
Finally, the visit the provided a forum for interns to ask questions ranging from career advice to Six Sigma/LEAN training. Additionally, the experience at Jersey Shore provided the interns with the opportunity to apply the knowledge that they have garnered so far during their summer internship. It provided a useful view of West Pharmaceutical Services beyond the walls of the global headquarters.
FluroTec® and Westar® are registered trademarks of West Pharmaceutical Services, Inc., in the United States and other jurisdictions.
FluroTec® and B2-coating technology are licensed from Daikyo Seiko, Ltd.