Bjoern Henze
Manager, TCS, Commercial
Aseptic Transfer of Pharmaceutical Closures
The supply of sterile pharmaceutical closures into a filling line is an essential element of the production of parenteral drug products. In addition to sterilizable bags, West offers closures in aseptic transfer bags – referred to as "port bags" or "ported bags." Port bags contain a "beta" port that is attached to the actual bag (Figure 1).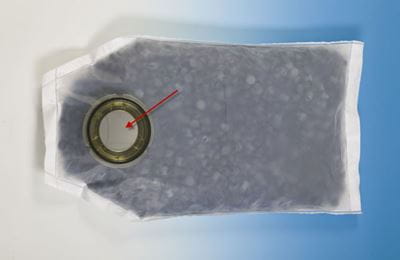 Courtesy of Sartorius AG
Figure 1: SSB Biosafe® bag for steam sterilization with rubber closures inside;
the beta port is the round part.
The beta port connects to an alpha port – the matching component on the filling line (Figure 2).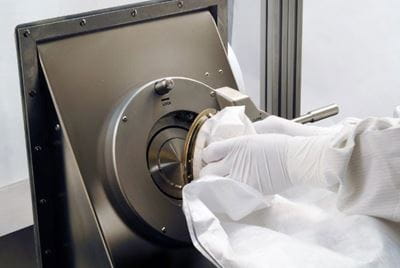 Courtesy of Sartorius AG
Figure 2: SSB Biosafe® portbag approaching SSB alpha port (stainless steel).
The principle of the alpha/beta port system is a "double-door" that is formed when the alpha and the beta parts are connected. This ensures that sterile closures are not exposed to any potentially contaminated areas, thus enabling the aseptic transfer (Figure 3). The theoretical risk of the "ring of concern" is eliminated by "chute/tube" features.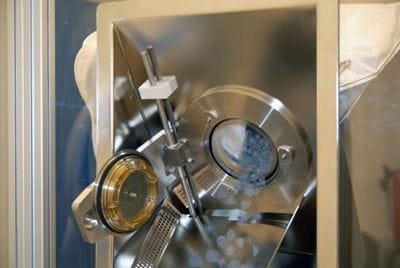 Courtesy of Sartorius AG
Figure 3: SSB Biosafe® portbag attached to the alpha port; the "double door" is opened and the closures are transferred with sterility.
West employs the two main portbag systems on the market: Biosafe® bags from Sartorius Stedim Biotech (SSB) (110 mm beta port diameter) and DPTE® BetaBags from GETINGE (GLC) (105 mm and 190 mm beta port diameter). Filled bags are offered in both ready-to-sterilize (RS) quality, and ready-to-use (RU) quality. RU sterilization is by either steam or gamma processing. For RU products, West has developed/validated packaging that ensures sterility of articles in port bags – so they can be used directly at a customer's site without the need to develop a validated sterilization cycle. West's focus is always on patient safety. Offering closures in formats that are safe and easy to use is well in line with that focus.
For further technical details please contact West's Technical Customer Service team.
Biosafe® is a registered trademark of Sartorius Stedim Aseptics S.A.
DPTE-BetaBag is a registered trademark of Getinge Group, its subsidiaries or affiliates.