Caitlin Storbeck
Associate Specialist, Global Communications
Following a ROADMAP from Exton to Dublin
One of the many unique opportunities West offers employees is the ability to participate in a short-term assignment program, known as ROADMAP (Rotational Opportunity Assignment Development Mobility Action Plan). Developed in 2015, ROADMAP provides employees with the opportunity to work at a different West facility for an extended period of time. The ROADMAP program is designed to encourage job sharing, job rotation, special projects, knowledge transfer and start-up opportunities to support the organization to further build global network and culture within West.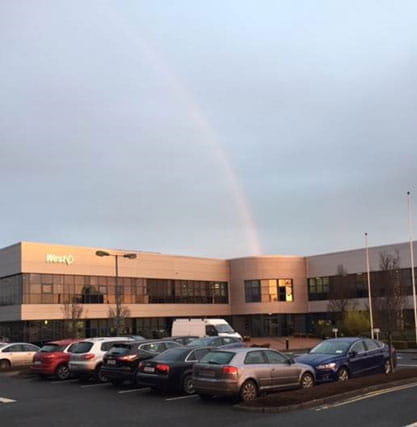 Recently, Marketing Communications Manager, Deirdre Swinden, who is based at the West headquarters in Exton, PA, completed a two-month ROADMAP assignment in Dublin, Ireland. "ROADMAP has been a tremendous experience for me," said Deirdre. "It helped broaden my global awareness as a communications professional and provided me with a unique perspective into the needs of West's global audience, both internally and externally."
Deirdre began her ROADMAP in February 2017 specifically to help build the communication functions in Europe. Deirdre, who has always been interested in traveling abroad, jumped at the chance to help with this project live and in person.
"To be immersed in a new environment, to live in another country and see the differences and similarities in our cultures is something that no short visit or vacation can accomplish," Deirdre explained. "Working in Dublin gave me a chance to really get to know my colleagues and their unique business needs. I've developed some wonderful friendships, had a chance to tour our Waterford and Dublin facilities, engaged with old and new vendors, and helped my colleagues understand the strategic guidance Global Communications can provide."
The ROADMAP program not only influenced Deirdre's professional outlook, but also gave her added respect for her colleagues.
"I was able to witness first-hand their tremendous efforts on behalf of West," said Deirdre. "That experience will influence how I work for a long time to come."
Click here for more information on career opportunities at West.