West's Global Communications Team
West Receives Impact Award from the YMWIC Foundation
At its 8th Annual Scholarship & Awards Banquet, the Young Men and Women in Charge (YMWIC) Foundation presented West Pharmaceutical Services, Inc. with the organization's first-ever Impact Award.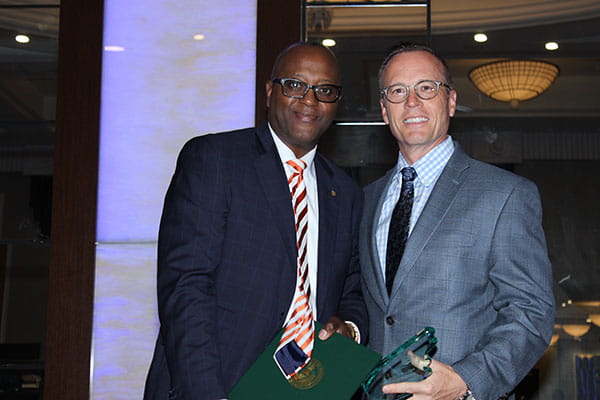 West is a longtime supporter of the YMWIC Foundation, whose mission is to empower and prepare economically disadvantaged and historically underrepresented youth to excel and become leaders in STEM careers through academic tutoring, mentoring and financial assistance programs, accomplished by leveraging alliances with K-12 school districts, universities, corporations, and committed partners.
West was given the Impact Award for providing continued support, resources and guidance that have been critical to sustaining YMWIC programming. Moving forward, the award will be known as the West Impact Award. It will be awarded annually to organizations who, like West, are socially responsible and connected to and making significant impacts in the community by improving the quality of life for others, educating and inspiring youth to pursue academic excellence particularly in STEM-related courses, and embracing a culture of philanthropy and community involvement.
"West's impact has been life changing," said Richard Roberts III, the founder and President of YMWIC. "The generous contributions from West Pharmaceutical Services have impacted our 25 alum and more than 300 young men and women scholars across the region in Chester, Montgomery, Delaware and Philadelphia counties."
The important mission of YMWIC is consistent with two of the four focus areas in West's corporate giving strategy: supporting children and STEM education. West has supported YMWIC for the past eight years and, in that time, has generously donated more than $250,000 to their cause. The funds donated to YMWIC are used to provide scholarships for local students entering college in STEM fields of study.
In addition to donations, West takes an active role in mentoring the youth from the YMWIC Foundation through job shadowing and internship opportunities. This month, we welcomed 40 local middle and high school students to our corporate headquarters where they met with West team members from a variety of business functions to learn more about the careers available at West.
"By supporting an important organization like the YMWIC Foundation, we are giving local, underprivileged children an opportunity to pursue careers in STEM," said Brian Stocker, VP, HR, Global Operations for West and member of the YMWIC Foundation Advisory Team. "In doing so, we hope to build a pipeline of STEM professionals who, after completing their education, will consider coming back to work for West."