Amy Kim
Specialist, Scientific Communications, TCS
Container Closure Integrity at Low Temperatures
With the help of the FDA's expedited programs for approval, a new wave of high-value biologic drugs is on the rise in the pharma industry.1 These drugs require cryogenic storage (-80oC to -180oC) to maintain stability. This presents a new challenge: how to measure and demonstrate container closure integrity (CCI) of storage and delivery systems at such low temperatures.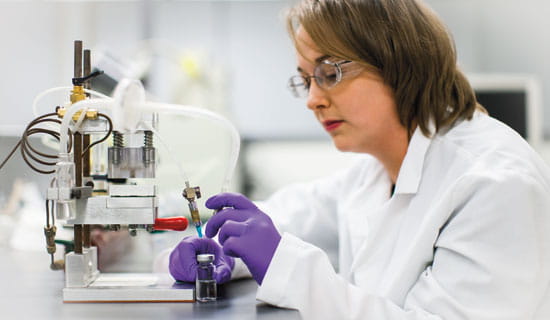 Understanding this challenge, West is focused on ensuring vial/stopper and syringe/plunger systems are suitable for low-temperature conditions. At the recent 2018 PDA Container Closure Performance and Integrity Conference, Matt Gehrmann, Senior Scientist, Scientific Communications, presented the poster Strategy to Evaluate CCI at Low Temperature. This discussed a three-fold strategy to address CCI at low-temperature storage conditions in glass/polymer vial and syringe systems paired with rubber stopper/plunger components. West's strategy comprises deterministic methods endorsed in USP 1207 (Package Integrity Evaluation – Sterile Products):
Modified commercial tracer gas (helium) leak detection for real-time CCI measurement and assessment of seal integrity at low temperatures for rapidly identifying systems that may fail – this is well suited to high-throughput experimentation –
Frequency modulated spectroscopy (oxygen) headspace analysis to examine gas ingress over time
High-voltage leak detection to assess seal integrity over time – this is especially well suited to syringe/plunger systems
West's three-fold strategy allows for a more complete understanding of CCI performance of biologic drug containment and delivery systems in real-time, as well as over time. This supports not only regulatory compliance, but safe and efficient delivery of biologic drugs to patients. For more on West, visit the Knowledge Center or contact a Technical Customer Support (TCS) representative.