Deirdre Swinden
Seeking Industry Insight? West Expands Online Knowledge Center
Seeking technical support? Need a little information about fill-finish manufacturing technology? How about advice from the experts on extractables and leachables? These answers, and more, are available in the new West Knowledge Center.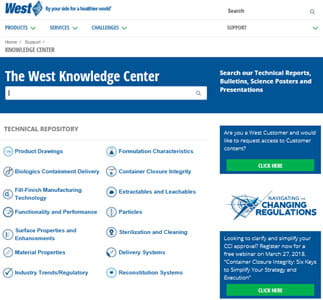 West recently expanded its online Knowledge Center to provide deeper insight and advanced information about market trends, scientific developments in parenteral packaging, and information on hot topics of interest to our customers, including particulates, container closure integrity, material properties, formulation characteristics and more.
Our Online Technical Repository is available any time for registered visitors to westpharma.com, and offers a variety of insights from West experts, including:
Technical Reports
Technical Bulletins
Science Posters
Presentations
Scientific Literature
To help ensure that our customers have the answers and information they need – day or night – we've expanded the Knowledge Center to include a Technical Customer Support Portal* that adds to the insight found in the Technical Repository with the following:
Technical Support Articles
Formulation Characteristics
Product Drawings
Theoretical Material Extractables
Click here to register for access to our Online Technical Repository, or for current and prospective customers, our Online Technical Customer Support Portal.
As always, our Technical Customer Service team is available to help – contact us today to discuss your needs.
*Access to the Technical Customer Support Portal will only be granted to current West customers and prospective customers.