West Corporate Communications
Lisa Bakazias Named West's 2018 Healthcare Businesswomen's Association (HBA) Luminary
West is thrilled to announce that Lisa Bakazias, VP, Operations, Manufacturing Strategy, was recently named as our 2018 HBA Luminary.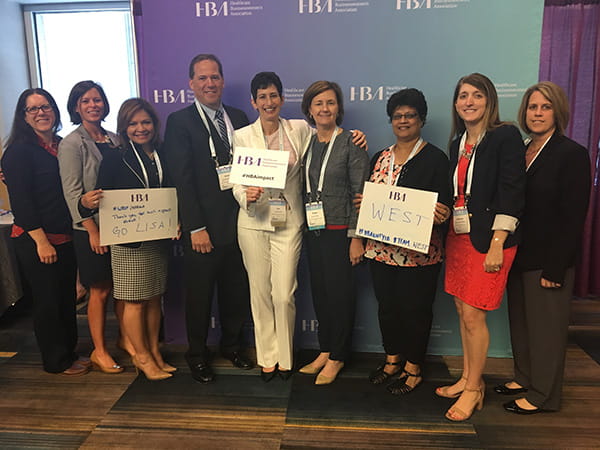 Through our Women Investing and Networking (WIN) group, West has been engaged as a corporate member of the HBA for the last four years. Each year, West selects a Luminary Award recipient based on criteria set forth by the HBA. Luminaries must have more than 20 years of professional experience, serve as a role model in their company, actively mentor and sponsor others, help women to advance their careers, exhibit dedication to the healthcare industry, and overall set a shining example of transformational leadership.
Lisa has demonstrated all of these attributes throughout her career, and especially in her time with West. She has served as a role model for many of our employees, has consistently demonstrated a commitment to embracing West's business strategy, is a champion for change and avid supporter of WIN, and an outstanding leader. She is well-regarded, not only at West but in our industry. In addition to serving on many teams within West, she is a member of the Council of Supply Chain Management Professionals.
Lisa has been with West since 2014. Upon joining us, she immediately began making a positive impact and has since taken on positions of increasing responsibility in our supply and operations network functions. In her current role, Lisa and her team lead the global manufacturing and network optimization strategy to deliver a simplified, optimized and integrated network.
Lisa was celebrated among her peers at a special WIN Reception held at West's corporate headquarters in Exton, PA, on Tuesday, May 1. She was formally recognized at the 2018 HBA Women of the Year event on Thursday, May 3 in New York City.
Congratulations to Lisa on this well-deserved recognition! We are thrilled to recognize her achievements and contributions as our 2018 HBA Luminary.