Daria Miller
Senior Technical Account Specialist, TCS
As Average Time to Market Decreases, Generics Manufacturers Seek High-Quality Solutions
Recently, the generics pharmaceutical industry in the United States has seen the average time to market decrease significantly as approvals have steadily increased thanks to the introduction of the Generic Drug User Fee Amendments (GDUFA) in October 2012. The reduction in time has led pharmaceutical companies to seek out high-quality elastomer products that provide the regulatory simplicity necessary to bring their products to market quickly, helping to increase a company's competitiveness and their drug product's overall sales. The AccelTRA™ elastomer program is built on these features: Quality, Speed, Simplicity.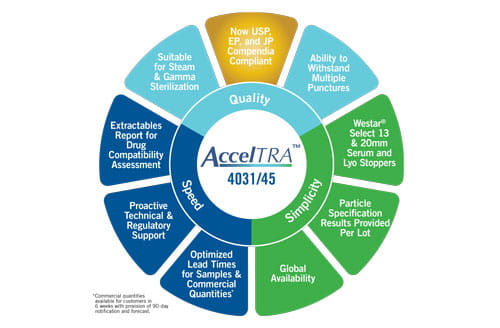 Globally available AccelTRA stoppers were designed using West's 4031/45 formulation: a high-performance, bromobutyl formula offering multi-puncture capability with low particulates and a low extractables profile. The 4031/45 formulation meets strict regulatory standards – including compliance with the US and EU Pharmacopeias to 24 months and the Japanese Pharmacopeia to 18 months. Ongoing, real-time testing continues to obtain JP compliance to 24 months in early 2019. This compliance is critical because it highlights the high elastomer quality customers are able to access with AccelTRA components.
Additionally, West recognizes the importance of speed to market and offers a quick order fulfillment response to help customers improve their product's speed to market with the AccelTRA component program. Optimizing lead times has enabled customers to receive component samples in as little as one week and commercial quantities in as little as six weeks.
AccelTRA component customers also benefit from access to a robust Extractables Report that includes summaries of studies conducted with three different pH ranges and three different solvents to assist with compatibility and risk assessment analyses for drug products are provided.
During the past year, West provided more than 10 million AccelTRA sample components to 200 customers seeking the benefits of quality, speed and simplicity offered by the AccelTRA elastomer component program.
Click here to order samples and learn more about how the AccelTRA™ elastomer component program can help your organization move products to market fast.
AccelTRA™ is a trademark of West Phamaceutical Services, Inc. in the United States and other jurisdictions.