Marisa Leuzzi
Senior Specialist, Corporate Communications
West in the Community: Canine Partners for Life
Celebrating its 30th anniversary, Canine Partners for Life (CPL) has been dedicated to training service dogs, home companion dogs, residential companion dogs, and courthouse companion dogs to assist individuals who have a wide range of physical, neurological, and cognitive disabilities.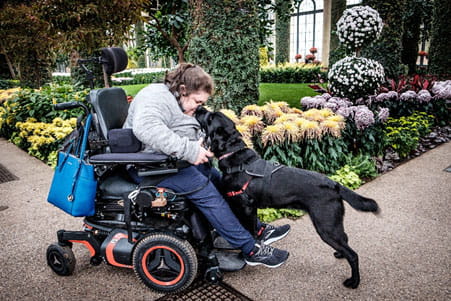 The mission of CPL is to increase the independence and quality of life of individuals with physical, developmental, and cognitive disabilities or who are in other situations of need. Since its inception, CPL has placed more than 700 service and companion dogs in 45 states.
CPL's service dogs go through an intense two-year training program. In addition to learning advanced obedience and social skills, they learn techniques to help people with disabilities meet the challenges of daily living. CPL's programs include:
Full service training for dogs that provide physical assistance to individuals who have a wide range of physical and cognitive disabilities. These dogs provide assistance as seizure alert dogs, cardiac alert dogs and diabetes alert dogs that can assist and alert an individual in a medical emergency.
Companion training for home companion dogs that are placed with individuals who CPL feels would benefit from a well-trained companion but would have difficulty raising and training a dog on their own. There are also courthouse companion dogs that provide comfort and emotional support to children and adults who are victims of crime. Residential companion dogs are trained and placed within group homes and residential/retirement facilities to provide daily pet therapy.
Since it was chosen as one of our local charities of choice in 2010, West has had a special relationship with CPL. For the past nine years, West has continued to support and be involved with CPI, including through its team members who have raised and fostered service dogs. Two of our very own team members, Janet Cooper, Manager, Administrative Services and Erin O'Brien, VP Product Management and Marketing Operations feel very passionate about CPL's mission and take every opportunity to spread the word about the impact service and home companion dogs have on people's lives by serving on CPL's Board of Directors.
"Seeing the difference in the recipient's lives is my favorite part of being a volunteer for CPL. Once you see the impact they make, and you hear the stories, it makes you want to keep helping," said West team member and CPL Board Member, Janet Cooper.
To learn more about Canine Partners for Life or how you can get involved, visit their website here.