Sandy Aman Keller
VP, Human Resources
West is By the Side of Our Team Members for their Professional Development – Focus on WIN
At West, we are committed to advancing a culture of inclusion that values difference as a source of strength so that all employees may bring their whole selves to work. We strive to create a workplace that is inclusive of all people, where team members feel respected and valued, and have the opportunity to excel.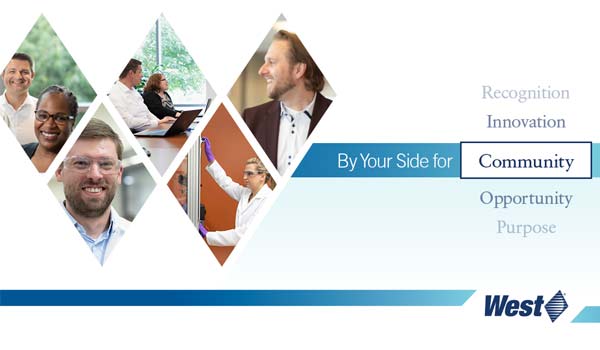 We strive to create and maintain a workplace rich with diverse people, talent and ideas in order to deliver on our promise of a healthier world. In an increasingly competitive global marketplace, we know we can only succeed when we attract and retain the best talent and when our workforce is reflective of the diversity of the communities, customers and patients we serve. We aim to provide a supportive environment that empowers our team members to thrive and grow within our Company.
We work by the side of our team members through supporting their professional development. Over the past five years, West has invested in Employee Business Resource Groups (EBRGs) to support and connect our team members like Women's Investing & Networking (WIN). By connecting team members with diversity of thought and backgrounds, our EBRGs enrich workplace experiences and cultivate a sustainable business. The WIN Group is focused on mentoring, educating and developing women to foster their professional success, and enabling West to achieve its business goals.
To empower the development of female leaders at West, WIN provides education, leadership and community outreach opportunities for our team members. Our WIN chapters host events that give team members the chance to develop various types of professional and personal skills, including public speaking, time management, negotiation, emotional intelligence, personal branding and more. Team members leave these events armed with insight that can aid in their own career development and help them develop and expand their networks both within West and our communities.
West is committed to expanding our network of EBRGs to engage our diverse team members around the world and will be adding two additional groups over the coming months. As these programs grow, so do the opportunities for personal and professional development, engagement, connections with colleagues and the community, driving innovation and personally playing a part in fostering an inclusive culture.

Do you want to work for an organization that supports your professional and personal growth? Will you join us, and help us to create value for our team members, our community, and for our customers and patients for the next 100 years and beyond? Click here to learn more about career opportunities at West.
#WestByYourSide #WhyJoinWest