Karen Flynn
Sr. VP & Chief Commercial Officer
West Addresses Injectable Drug Delivery Challenges with Innovative Product Offerings and Services
Injectable drug delivery and containment can be a challenge for drug manufacturers, especially as regulations and quality standards are increasing and as biologic drug products present new challenges in their sensitivity and dose volume. At West, we work closely with our customers to understand industry trends, the challenges our customers face, and we work by their side to drive new innovations to support their work to deliver medicines to the patients that need them.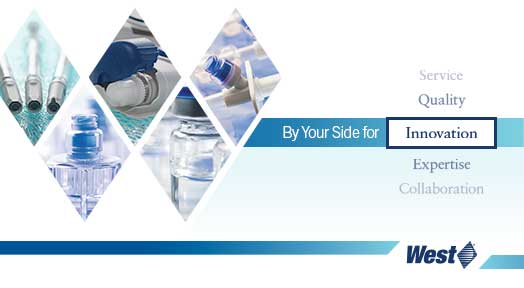 Since it was founded, West has been a market-led organization. We have been driven by the needs of patients and by leading pharmaceutical and life science manufacturers working to deliver the next generation of medicines to help those patients.
One of our earliest success stories is an example of market-driven innovation. After Alexander Fleming discovered the bacteria-killing properties of penicillin in 1928, the biggest challenge was devising a way to mass-produce the medicine and package it safely for transport. When World War II began, the pressure was on to find a solution that would reduce rates of infection among wounded soldiers. Company founder Herman O. West partnered with a major pharmaceutical company to produce a rubber closure for a vial that helped keep penicillin safely packaged and delivered to our troops during the war.
It was a significant innovation in pharmaceutical manufacturing, and the impact was enormous: in World War II, the death rate from bacterial pneumonia was less than 1 percent, down from 18 percent in World War I. Other common wartime-related infections were also reduced dramatically.
An Expanding Family of Products
This spirit of innovation and commitment to addressing real-world drug containment and delivery challenges is alive and well at West. In fact, just yesterday, we announced two innovative product offerings at the 2019 PDA Universe of Pre-Filled Syringes and Injection Devices (PDA PFS). The first — NovaPure® 3mL Cartridge components — includes plunger and lined seal components specifically designed for consist delivery for higher-volume injectable drug delivery systems. The second is the SmartDose® Gen. II 10mL drug delivery platform, which enables subcutaneous delivery of a wide range of drug formulation viscosities up to 10mL in volume.
These are just two of many product offerings we'll be announcing in the coming months. Please stay tuned to our website to read more about them. These launches stand as milestones, not destinations, on West's journey of innovation. They symbolize our ongoing commitment to advance the field and to create the future of injectable delivery. We hope you'll join us for the journey — and to see West as a Partner of Choice for Product Innovation.
#WestByYourSide #SimplifyTheJourney™
NovaPure® and Simplify the Journey™ are trademarks and registered trademarks of West Pharmaceutical Services, Inc., in the United States and other jurisdictions.SmartDose® is a registered trademark of West Pharma. Services IL, Ltd., a subsidiary of West Pharmaceutical Services, Inc.