Marisa Leuzzi
Senior Specialist, Corporate Communications
West Corporate Responsibility Report: Quality
West's top priority is delivering high-quality products that meet the exact product specifications and quality standards customers require and expect in the interest of patient safety. This focus on quality includes excellence in manufacturing, scientific and technical expertise, and management. At the manufacturing level, this means producing clean, sterile, high-quality components to minimize disruptions to the supply chain and bringing safe, effective drug products to the market—and to the patient—quickly and efficiently.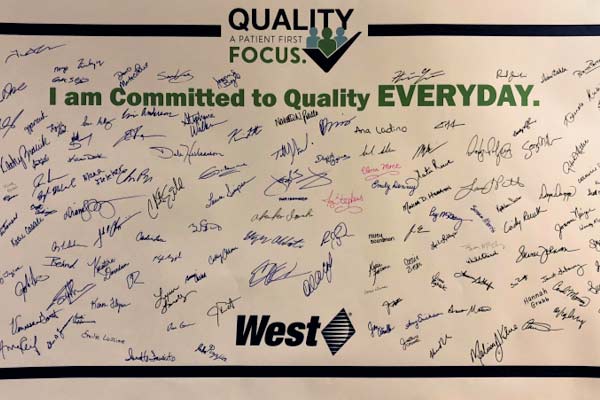 Quality product and system controls are designed to ensure compliance with our high standards and applicable cGMPs, ISO standards and regulatory requirements. We work to continuously improve our customer satisfaction scores for quality and have established metrics to measure our progress, including:
Reduction in quality issues
Timeliness and quality of response to customer inquiries
Reduction of defect and Out of Specification (OOS) rates
We continue to drive improvements in our manufacturing processes that will reduce variation and defect rates.
We implement Quality by Design in our manufacturing facilities and laboratories, utilizing automation, site design and scientific expertise to help ensure the highest levels of product quality. Several examples of this include:
Automated vision verification process. West's Envision® verification process camera system using automatic, program-controlled vision inspection technology to inspect all surfaces of elastomeric components, as well as automated feeding to reduce the risk of contamination by minimizing the amount of human interaction.
Production area viewing corridors—enabling customers and visitors to fully view the production areas without entering these controlled environments.
State-of-the-art laboratories, designed to streamline a variety of testing workflows for our products, ranging from raw material testing to multiple chemical and microbiological release tests—all designed to ensure the highest level of quality in West's products.
In addition, we are focused on timely responses to our customers when issues or questions arise. Over the past four years, we have maintained a customer complaint response rate of 10 days or less. This provides customers with the information that they need to assure that the level of care to patients is maintained.
We monitor our performance against our customers' requirements. Utilizing an OOS Customer Complaint metric, our overall trend for the past five years demonstrates our commitment to drive improvements in our product quality.
In driving our Quality Culture, we spent time in 2018 communicating one of our core values, Leadership in Quality, to team members. This value reminds us that we must never compromise on quality because patients are counting on us. We continue to reinforce our "patient first focus," which was the theme of West's Global Quality Week. This annual event emphasizes the need for our team to ensure quality in everything that we do because of the impact we have on patients on a daily basis. During Quality Week, our team members have an opportunity to hear stories from some of our customers and patients on the importance of quality in the products that we provide to the markets that we serve.
Click here to view the full 2018 Corporate Responsibility Report.