Susan Morris
Associate General Counsel, Chief Compliance Officer
corporate-responsibility-report-2019-series-part-3-compliance-and-ethics
West recognizes its responsibility to operate with integrity and to proactively identify potential misconduct. We hold ourselves accountable to the highest standards of quality, integrity and respect for our team members, our shareholders, our customers, and the patients we jointly serve.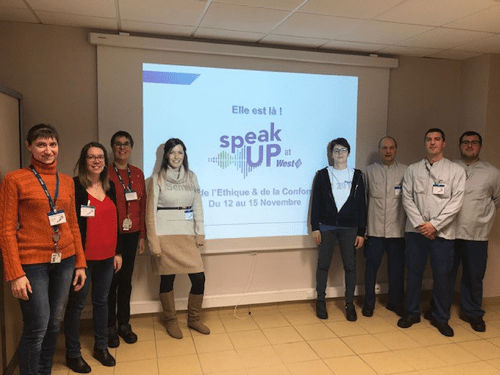 In an effort to objectively evaluate our program, in 2019, we benchmarked our Compliance and Ethics Program against those of over 150 other companies using a mechanism constructed in alignment with guidance issued by the U.S. Department of Justice and developed by a leading compliance best practices expert. The results placed West in the 4th Quartile, which is above the 3rd Quartile benchmark of all companies participating in the program.
Code of Business Conduct and Internal Education
Our team members live the values of our ethical culture. They are responsible for adhering to our core values as they work together to support our mission to improve patient lives. West's Code of Business Conduct (the "Code"), available in multiple languages on WestPharma.com, provides guidance to our team members on appropriate conduct.
The Code provides several avenues for team members to report their concerns without fear of retaliation. West encourages team members to first address any issues with their managers, or, seek help from Human Resources, the Compliance & Ethics Office, or the Law Department. West also makes available its Integrity Helpline, toll free or online, available 24/7 from anywhere in the world in multiple languages.West carried out its annual Code recertification and training process in 2019, which requires team members to review and agree to the Company's expectations related to their conduct and submit to training. In 2019, our training completion and Code recertification rate was 98%, which is consistent with the high rates we typically see.
Transparency is another important component of our operating model. We create clear expectations for our team members to enable them to achieve success. In 2019, we began to simplify our corporate policies to ensure they are clear, actionable and easily understood by team members.
In November 2019, West held its annual Compliance & Ethics Week, with an emphasis on our Speak Up culture. Team members at all sites around the globe engaged in meaningful discussion surrounding the importance of Speaking Up, when and how to raise concerns, and the measures taken to protect from retaliation those team members who Speak Up in good faith. Our global sites hosted executive and guest speaking events, games, trainings and small group discussions to help engage our team members on this valuable initiative.
Data Privacy
West understands its crucial role in securing the personal data of team members, customers, business partners and other stakeholders. There are programs and processes in place to enable West to adhere to applicable data privacy regulations, including the European Union's General Data Protection Regulation and the California Consumer Privacy Act of 2018. Personal data protection will continue to be a key priority for West well into the future. To carry out this mission, in 2019, West increased resources dedicated to its data privacy program and enhanced its privacy processes globally.
Compliance Oversight
The Compliance and Ethics program reinforces our core values and supports West's efforts to build and maintain a responsible business culture. Our Executive Compliance Oversight Committee (ECOC) is chaired by West's Chief Compliance Officer and includes all members of West's Leadership Team. The ECOC oversees and provides strategic direction for our compliance activities and ensures regular reporting to the Audit Committee of our Board of Directors.
With guidance from the ECOC, our business unit compliance committees support our global compliance structure and its corresponding policies and procedures to empower our team members to conduct business with integrity. This comprehensive program is designed to foster a consistent approach to conducting business—and a practice that supports all parties from team members, customers and other stakeholders to the patients we serve.
Click here
to view the full 2019 Corporate Responsibility Report.