Nicole Grabuski
Sr. Specialist, Global Communications
Continuing the Digital Engagement Journey - Introducing the West Virtual™ Experience
When the COVID-19 Pandemic shut down the ability for in-person tradeshows and events, we worked to find an alternative solution with a new virtual exhibit designed to replicate the West experience without the risk of in-person interactions. Our team members quickly turned the idea of a booth replacement into an interactive experience for customers to use – both during trade shows and any time there's a need to connect with us.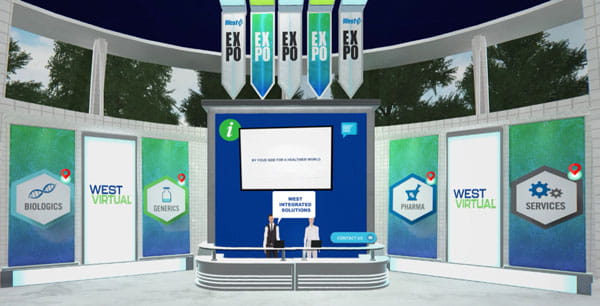 This 360 experience offers visitors the opportunity to learn about West's products and services in a truly virtual format. These are our first steps with this new technology – and we are growing. Check back often for additional features that will be added.
"Staying connected with our customers is vital, especially in the current environment. We have different ways of working, and we need different ways to engage and build relationships" says Cindy Reiss-Clark, Senior Vice President, Global Market Units and Commercial Solutions, "The West Virtual™ experience is another way that we can maintain these connections to existing customers, sustain our scientific thought leadership, and create new opportunities to introduce West in a growing digital world."
Click here to get the West Virtual™ Experience and let us know what you think!
West Virtual™ and logo are trademarks of West Pharmaceutical Services, Inc., in the United States and other jurisdictions.