Mike Schaefers
VP & GM, Global Pharma
West Launches New Product Innovations at Pharmapack 2020
Our team will share their expertise and introduce several new and innovative pharmaceutical containment and closure offerings during the Paris Pharmapack trade show.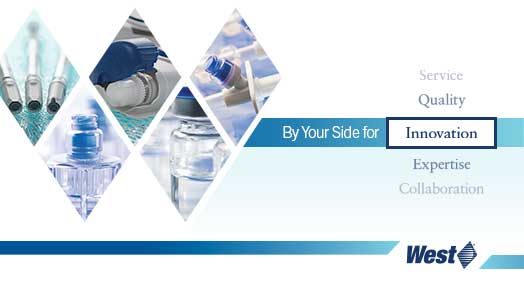 As part of the two day trade show – our Company is highlighting its expanded innovations for global customers and their patients with the introduction of an AccelTRA® component line extensions; a Flip-Off® certified, clean, sterilized(CCS) Seal compatible with the 5mL Daikyo Crystal Zenith® vial; and a new Ready Pack® system offering SCHOTT's adaptiQ® platform, resulting from West's recent partnership expansion with leading packaging supplier SCHOTT.
In addition, West is sharing thought leadership insights into biologics and combination products, which are two priority areas in pharmaceutical packaging and delivery innovation today. Fran DeGrazio, Vice President Scientific Affairs & Technical Services at West, will present on "Understanding the Complexities of Delivering a Biologic Drug to the Market"during the main Pharmapack session on biologics on Thursday, February 6 at 10:05 a.m. CEST.
If you are attending Pharmapack, be sure to stop by our booth B58 where our scientific and industry experts will be available to discuss our role in continued innovation in biologics and combination products, to provide insights into our Integrated Solutions Program, and to share additional highlights on our new product offerings.
Click here for more information about West during Pharmapack 2020.