Victoria Morgan
Director, Segment Marketing, Global Biologics
Improving the Patient Experience without Sacrificing Quality of Care
The impact of a cancer diagnosis can be stressful. Questions such as "how will I tell my family?", "how will I afford to pay my bills?", "will I ever work again?" and even "will I survive?" are at the forefront of the patient's mind as they process their diagnosis and begin treatment. So, how can the patient experience with treatment be supported? By offering the best quality of care.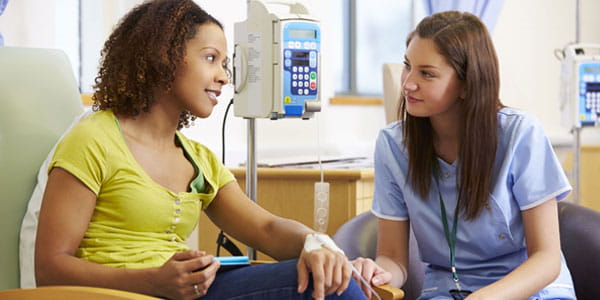 From 2012 to 2017, under the fifth authorization of the Prescription Drug User Fee Act (PDUFA V), FDA conducted 24 disease-specific Patient-Focused Drug Development (PFDD) meetings to systematically obtain the patient perspective on specific diseases and their treatments; both breast and lung cancer disease states have been the focus of the PFDD meetings held to date¹. The FDA also established the Oncology Excellence Committee in 2017, to facilitate the development and clinical review of oncology products by uniting scientific experts across the FDA's product centers to conduct expedited review of drugs, biologics, and devices².
Never have the oncology patient's unmet needs been more integrated in drug development than now.
Any chronic and acute IV therapies to treat cancer need to focus on the clinical outcomes, which may be influenced by the patient experience. Offering patients a choice in the way their treatment is administered is what patients are now expecting, including ways to disconnect a patient and their treatment from an IV pole. Large volume subcutaneous administration offers patients this option by allowing cancer medicines to be delivered in a clinic or non-clinic setting. This benefits the patient as it offers an alternative to frequent, time consuming and potentially expensive hospital visits. Using a combination of clinical and non-clinical settings, more patients can be treated in a 24-hour period.
West's SmartDose® drug delivery platform improves the cancer patient experience by offering subcutaneous injection via a large volume device that attaches to the patient, without sacrificing quality of care.
With West's SmartDose platform, you can expand patient access to subcutaneous injection as a treatment option. As West's SmartDose injector is already approved for use with an approved drug and commercially available in the US, Europe and Japan, you can get to market quickly with a combination product that improves the way a treatment is delivered.
High-quality components and systems are critical in the market today, so we are constantly working by the side of our customers to ensure that their needs and, ultimately the patients' needs are met. We recently developed an oncology drug development-focused section on our website because we understand the challenges posed by packaging in this space and the requirements that need to be met.
Click here to learn more about our packaging and delivery solutions for challenges in oncology development.
SmartDose® is a registered trademark of West Pharma. Services IL, Ltd., a subsidiary of West Pharmaceutical Services, Inc.