Gabrielle Gehron
Associate Technical Account Specialist, TCS
Multiple Benefits of Elastomeric Closures with FluroTec® Barrier Film
Historically, finding suitable containers for complex protein drug products has been difficult, since interaction with elastomeric closures can result in particle formation. These particles indicate an underlying change within the drug product, undermining integrity and risking patient safety. The correlation of silicone coatings with protein aggregation has made some wary of their use; however, an elastomeric closure with no coating or film can be difficult to process. Another concern is that leachables originating from the elastomeric closure can induce particle formation.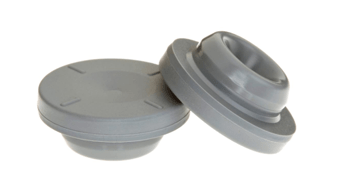 West has developed a solution to address these issues – elastomeric closures laminated with FluroTec® barrier film. Cathy Zhao, Ph.D., Director of Scientific Insights Lab, discussed this in her presentation A Science-Based Recommendation of Elastomer Components for Biologic Drugs at the 2019 PDA Europe – The Universe of Pre-Filled Syringes and Injection Devices conference.
Compared to non-laminated stoppers, laminated stoppers resulted in lower levels of particle formation (under either agitated or non-agitated conditions), and reduced levels of leachables. In addition to the reduction of particle formation and leachables, the FluroTec barrier film offers the lubricity needed for easier processing otherwise provided by silicone coatings.
West's commitment to patient safety comprises the design, development, and production of high-performing components and delivery devices – of which FluroTec laminated elastomeric closures are an example. For more on West products and services, contact an Account Manager or Technical Customer Service (TCS) representative.
FluroTec® is a registered trademark of West Pharmaceutical Services, Inc. in the United States and other jurisdictions. FluroTec® technology is licensed from Daikyo Seiko, Ltd.