Beth Crawford
Associate Specialist, Global Communications
West Recognized with 2020 Faces of Philanthropy Award from the Philadelphia Business Journal
West is honored to be a recipient of the 2020 Faces of Philanthropy Award from the Philadelphia Business Journal. The Faces of Philanthropy Awards honor partnerships between corporations and nonprofit organizations in the Philadelphia region as they work together to deliver impactful philanthropic initiatives.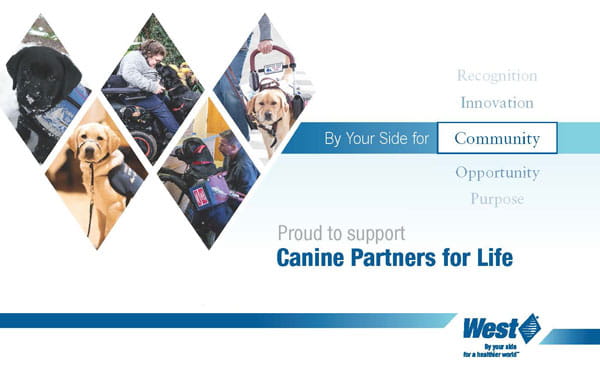 West received this award to honor the longstanding partnership between our Exton office and Canine Partners for Life (CPL), a Philadelphia area nonprofit 501 (c) (3) organization dedicated to training service dogs, home companion dogs, residential companion dogs and courthouse companion dogs to assist individuals who have a wide range of physical, neurological and cognitive disabilities.
Our partnership began in 2010 when West chose CPL as its focus charity for that year's West without Borders fundraising campaign. Since then, West team members have generously supported CPL through becoming CPL volunteers, helping to raise and foster puppies, assisting with their whelping program, giving demonstrations, providing monetary donations, and serving on their Board of Directors. Our Exton team members have generously donated over 1,000 hours of their time per year to CPL.
"I'm very proud of the support our team members have provided to CPL," said Annette Favorite, SVP & Chief Human Resources Officer. "For individuals in need, partnership with a CPL dog is lifechanging and empowers them to develop their independence. The Executive Team is humbled by our team members' continued dedication to philanthropy in the communities where they live and work."
"We are honored to be partners with West," said Janie Cramer, CPL's Executive Director. "Your generous support and dedication to our mission has enabled us to change the lives of so many individuals with disabilities, giving them a greater sense of independence through their partnership with a service or companion dog."
Last year, West received a Faces of Philanthropy award for our partnership with Fox Chase Cancer Center. This year's honor will be presented to West at the Faces of Philanthropy Awards Breakfast in Philadelphia, which has been postponed to October 8 due to the COVID-19 situation. Click here to learn about the 24 other partnerships that will be recognized for making a difference in the Philadelphia area.