Laura Pitt
Manager, Community Affairs
Corporate Responsibility Report 2019 Series, Part 5: Philanthropy
Philanthropy is a cornerstone of West's culture. It anchors our purpose of standing by the side of our customers to help make a difference in our global community.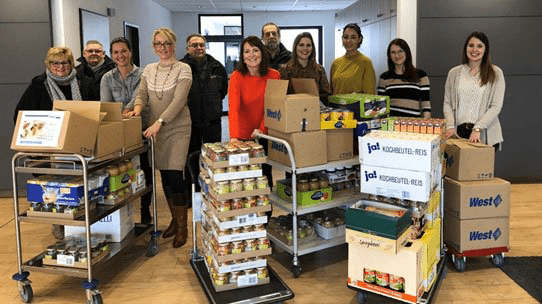 Since our beginnings–97 years ago, West has fostered a culture of giving to support the communities where we live and work. Our One West Team embraces philanthropy every day by making generous donations of time and resources to contribute to a healthier world. Their enthusiastic commitment powers our philanthropic programs and enables us to amplify our impact in our local communities.
West targets philanthropic activities and local charities to those that align with our mission in the focus areas of: children, people with disabilities, healthcare, and education (with a focus on STEM – Science, Technology, Engineering and Math). The Company's charitable giving framework is separated into three tiers: Corporate Giving through direct charitable gifts made by West Pharmaceutical Services, Inc.; the Herman O. West Foundation, an independently managed 501(c)(3) entity, which awards scholarships and matching gifts; and West without Borders*, our team member-led giving program that has raised millions of dollars since its inception in 2004.
In 2019, Corporate and Foundation giving reached approximately $2.1 million, with more than 200 charities supported globally. Our teams continue to answer the needs of our communities. West Teams giving totaled nearly $565,000, a 9.5% increase over 2018. One proud accomplishment from our 2019 West without Borders giving efforts was our fourth annual Global Food Drive, in which every West site collected food for local food banks and soup kitchens. In 2019, team members collected a record amount of more than 65,000 pounds of food, up 17% from 2018.
With the expansion of our volunteer programming in 2019, team members also had the opportunity to donate their time. Almost 100% of our global sites organized at least one group volunteer event in 2019, totaling over 8,000 team member volunteer hours.
We care for our communities and we care for our team members in need. In 2019 West started a new initiative – the West Employee Emergency Fund, created to assist team members who are facing financial hardship as a result of an unforeseen event, like a natural disaster, home fire, death in the family and more. In our inaugural Employee Emergency Fund campaign, team members donated approximately $130,000 to support their colleagues. The Herman O. West Foundation matched these donations 2-1, and West contributed an additional $100,000. So far, 25 grants totaling approximately $50,000 have been distributed to team members in every region where West operates.
In 2019, West continued its support of the American Red Cross with the purchase of an Emergency Response Vehicle (ERV) that will help with their national healthcare and emergency response efforts.
In recognition of our commitment to philanthropy, West was proud to receive several Corporate Responsibility Awards in 2019. Notably, West was awarded with a Faces of Philanthropy award from the Philadelphia Business Journal, honoring our ongoing partnership with Fox Chase Cancer Center. At West, we look forward to continuing to nurture our team members' philanthropic spirit and implementing new philanthropic initiatives in support of our local communities.
Click here to view the full 2019 Corporate Responsibility Report.
*West without Borders is not affiliated with Doctors Without Borders®, which is a registered service mark of Bureau International de Medecins San Frontieres.