Beth Crawford
Associate Specialist, Global Communications
Volunteer Spotlight: Caitlin Joran
Following her mom's Parkinson's diagnosis, Caitlin Joran, Specialist, Global Communications, Exton, made it her mission to learn everything she could and fundraise to support local families.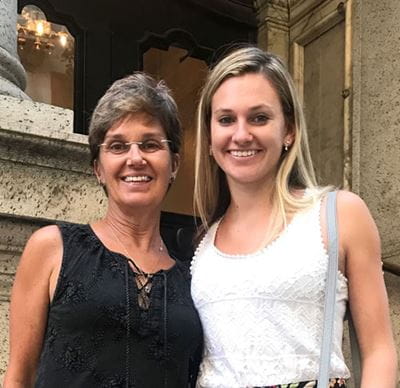 Caitlin Joran's mom, Linda Storbeck, was diagnosed with Parkinson's disease (PD) when Caitlin was 16 years old. One night when Linda was working late, she momentarily lost the ability to move her computer mouse with her right hand. Then, she developed a consistent tremor in her pinky finger that eventually spread to her hand and arm. Initially, she was misdiagnosed with multiple sclerosis (MS), which is common since PD patients exhibit a wide variety of symptoms.
PD is a neurodegenerative brain disorder that affects predominately dopamine-producing neurons in an area of the brain called substantia nigra. Symptoms generally develop slowly over the years, and patients may experience tremors, slowness of movement, limb rigidity, and gait and balance problems. More than 10 million people worldwide are living with PD.
Fortunately, after being diagnosed in her 40s, Linda is still able to walk and speak in her 60s. Her high quality of life is made possible due to the innovative treatments that have been developed since her diagnosis. It is vital that this groundbreaking research continues to be well-funded, as there is no set treatment path that works for every patient. There is no definitive known cause or cure for PD yet. "Over the years, we've realized that the best way to fight this disease is to lead fundraising efforts. Nobody in my family is a research scientist, but we can support the research being done by putting ourselves out there and raising awareness," said Caitlin Joran.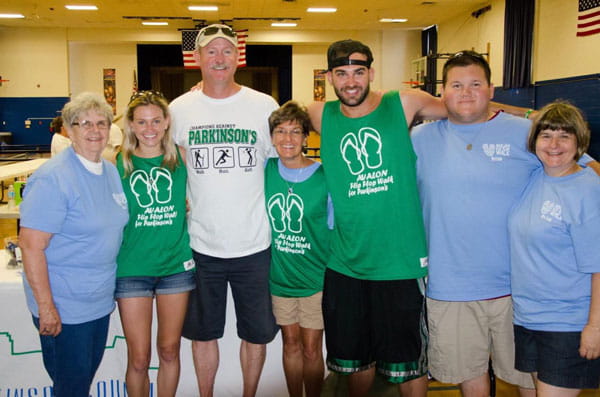 Caitlin and her family did just that in 2008, by developing "Walking in Flip Flops for a Cure for Parkinson's," which is now an annual event held in July in the beach town of Avalon, NJ. The Avalon Flip Flop Walk raised a little over $1,000 for PD research in its first year, and has since grown to raise close to $30,000 in 2019. West has supported this walk annually since Caitlin joined West in 2015.
In 2009, Caitlin and her family began partnering on the walk with the Parkinson Council, a nonprofit dedicated to helping people affected by PD in the Greater Philadelphia area. Caitlin's family chose to work with this organization because they have a targeted focus to support local families by funding research, providing support groups, and leading exercise programs for patients. The Parkinson Council also assists local families that cannot afford the treatments needed to live with the disease.
Due to COVID-19, for last year's walk, Caitlin and her family decided to combine the Avalon walk with the larger walk that the Parkinson Council holds in Philadelphia, which was held as a virtual event in October. Her family chaired the walk, and Caitlin volunteered on the Marketing Committee, assisting with promotion and event planning.
Thank you, Caitlin, for your tireless efforts to fundraise and raise awareness for those with PD.
We invite you to click here to donate to the Parkinson Council, or you can find a charity in your community that supports PD research.