Aaron Chapman, PhD
Program Manager, Commercial Technology Development
Is home-based administration possible? Exploring the intravenous to subcutaneous transition in cancer treatments.
Imagine self-administered cancer treatments in the comfort of a patient's home. How close are we to making this a reality? During this unprecedented time, immuno-compromised patients can benefit from receiving a self-administered, home-based treatment option. One major factor into making home-based cancer treatment a reality is a focus on shifting the route of administration from intravenous to subcutaneous delivery. Due to an emphasis on patient involvement in shared decision making for health care policy and medical approaches, understanding the intravenous to subcutaneous transition in medical injections has garnered increased importance. If therapeutic efficacy is not compromised, the less invasive nature and convenience of subcutaneous injections is often the preferred route of administration.1-2,4-6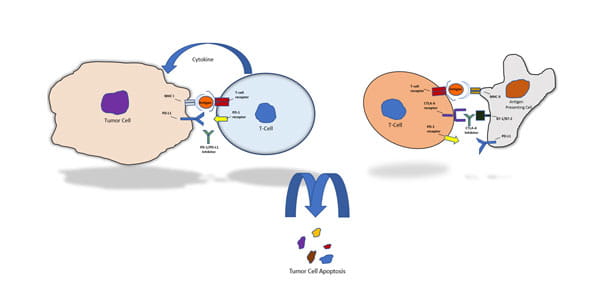 Image: Simplified Schematic of Checkpoint Inhibitor Mode of Action
Checkpoint inhibitors are a novel class of cancer drugs at the forefront of the transition from intravenous to subcutaneous therapeutic administration. Checkpoint inhibitors work to modulate the immune system by blocking specific cell surface markers that cancer cells use to send signals to T-cells. This signal blocking mechanism makes the cancer cells susceptible to recognition and attack by the immune system. Currently, there are nine monoclonal antibody-based checkpoint inhibitors approved worldwide across multiple cancer indications that target PD-1, PD-L1, or CTLA-4 cell surface markers.3 Of note, three of the nine can be subcutaneously administered, and a concerted research effort is being conducted to transition more of these treatments from intravenous to the subcutaneous administration route.
The utilization of monoclonal antibody-based checkpoint inhibitors for treating cancer offers both challenges and opportunities regarding practical delivery mechanisms. These therapies present unique challenges, because they can cause blistering at the site of administration, potentially lack absolute bioavailability due to their size thereby needing to be diffused through the interstitial space, and possibly contribute to delayed absorption effecting pharmacodynamic endpoints.4,7 Conversely, these therapies are advantageous because they are highly specific to their target of interest, more tolerable to the patient when compared to traditional cytotoxic cancer treatments, and efficacious across multiple indications. These benefits make monoclonal antibody-based checkpoint inhibitors ideal candidates for various routes of administration, including subcutaneous delivery.
Monoclonal antibody-based therapies may be best suited for a specialized delivery device. These treatments often have viscous, highly concentrated drug formulations that require higher doses and delivery volumes that are typically outside the range of standard syringe capabilities. West's SmartDose® platform of sterile, ready-to-use injectors allow up to 10mL of subcutaneous injection, including highly viscous drug products, administered slowly over time in a safe and discreet manner. West's SmartDose injectors offer home administration capabilities for monoclonal antibody-based therapies that enable patient independence, which is advantageous for long-term, patient-centric treatment plans and reduction of clinical visits.
To partner with West to make the intravenous to subcutaneous transition a reality or to learn more about our current drug delivery devices please visit our oncology page.
SmartDose® is a registered trademark of West Pharma. Services IL, Ltd., a subsidiary of West Pharmaceutical Services, Inc.