Candice Sun
Specialist, SA, CN
What is the Theoretical Extractables Profile?
Synthetic rubber has replaced natural rubber in many fields over the past decades. Very notable are the synthetic halobutyl rubbers used as a base for pharmaceutical elastomer components. They are an excellent choice due to their attributes of low permeability to air and moisture, excellent aging resistance, and low level of extractables. Halobutyl rubbers are available in two types, chlorobutyl and bromobutyl; both can be manufactured by co-polymerization with halogenated monomer.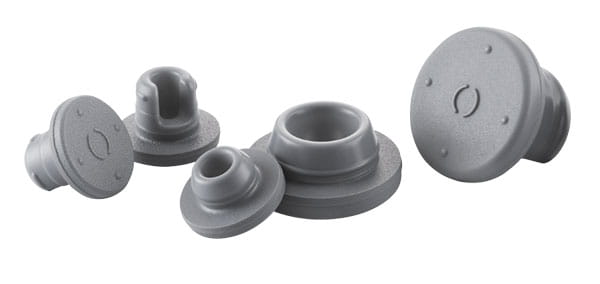 Elastomer components (such as stoppers, plungers, and lined seals) based on halobutyl rubber contain other ingredients as part of the complete formulation, such as fillers, curing agents, plasticizers, pigments, and antioxidants. These ingredients, properly selected and present at appropriate concentrations, contribute to the final component properties. Since elastomer components contact the drug product, a rigorous and properly executed extractables and leachables study is essential when considering a component for a drug product.
The first step in an extractables and leachables study of a component is evaluation of the theoretical extractables profile. Based on a knowledge of the complete formulation and potential by-products from polymerization and component forming, this profile lists possible compounds that may appear in an extractables study, such as residual solvents, oligomers, monomers, antioxidants, fatty acids, hydrocarbons, halogen ions, silicone oil, or calcium stearate. With the theoretical extractables profile, an extractables study can be designed to detect those compounds that may put the drug product at risk.
Moving from a theoretical extractables profile to a full extractables and leachables study is an offering of West's Analytical Lab Services. West partners with customers to both design and execute these studies. For more on how West can help, contact an Account Manager or Technical Customer Service representative.