Eecho Wang
Specialist, Global Communications
West Partners with IIT Palakkad's TECHIN to build a Medtech Research Center of Excellence
We recently announced our partnership with TECHIN – a Technology Innovation Foundation of IIT Palakkad which focuses on assisting innovation and incubation for growing entrepreneurs, to build a Medtech Research Center of Excellence.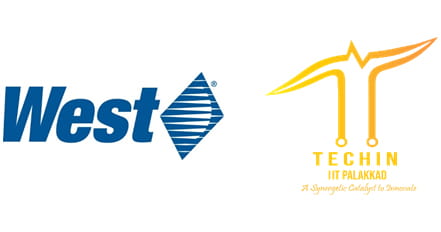 By supporting local entrepreneurs, we hope to enable access to healthcare and medical technology by developing an ecosystem of academia, hospitals and the industry to further grow the innovations and solutions to help patients worldwide. To further achieve this objective, West's medical expertise in collaboration with IIT's unique incubation model are working to advance research and development in medical technology.
Our Digital Technology Center (DTC) in Bengaluru will work directly with TECHIN's team throughout this partnership. To support the start-ups in the program, we will be providing a noncommercial prototype of its 'medical device connectivity platform' to support the development of connected med-tech equipment.
"The intersection of medicine and technology is yet to be explored to its depth and has transformative abilities in providing access to healthcare and ease of patient care." Said Anoop Madhusudanan, Vice President, Digital Marketing & Digital Platforms, "We believe in continuously pushing the boundaries of innovation to provide the best healthcare and medicinal support to the patient. And with this partnership, we envision moving closer to our goal."
"The partnership with West will enable us to make advancements in medical technology. We expect researchers and innovators to take advantage of TECHIN's unique incubation model and West's expertise in medical devices and health technology to accelerate development of technologies that'll ultimately benefit the society. We are grateful to West for coming forward to set up this Center at TECHIN and are looking forward to working with them in making Medtech Research Center of Excellence successful in the country," said P.B Sunil Kumar, Director IIT Palakkad and Chairman TECHIN.
Since its founding in 1923, West has an enduring legacy of innovation in materials science, product development, and manufacturing. To this day, we continuously innovate not only to further develop our products and service offerings but also to create disruptive opportunities. At West, our mission is to contain and deliver injectable therapies that improve patient lives. This mission serves as a reminder to our team members of the important role we play in delivering healthcare to tens of millions of patients across the globe every day. We are endlessly innovating to ensure we meet the needs of customers and patients now and into the future.
Working at West means having an opportunity to work by the side of our patients and customers, our global team members, and the communities in which we operate. We come together as one global team to deliver for our customers and address their challenges. Our team is passionate about exploring & advancing the intersection of science, technology and digital - solving some of the most important problems in science. Our teams focus on getting closer to customers and patients by identifying unmet needs and developing new integrated containment and delivery solutions focused on West's core market segments. If you are interested in joining our global team and our exciting innovative and digital journey that focuses on contributing to a healthier world, check out our careers page to view our current opportunities.