Sarah Gassmann
Exton Global Communications Intern
The 2015 Internship Program—a Success for all Involved
The final week of the Ambassador Internship program is coming to a close, and the 31 students who have been hard at work since June now have the opportunity to showcase what they have learned and reflect upon the entire experience during the program wrap-up.
At the beginning of the summer, interns received their project assignments—some individual and some group—that required research directly related to West's core businesses and competencies. The projects were designed to challenge the interns and also provide valuable insights to West—as findings from each assignment have real meaning for their respective departments.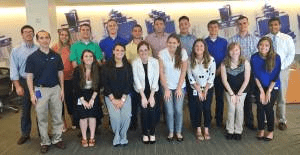 Students shared their appreciation for the significance of the work during the final presentations this week. "In working with my manager, I quickly came to understand that I was working on something that really matters to him," said intern Juile D'Ascenzo. "I was brought into meetings and conversations with other West employees to better understand the project and its significance, rather than being stuck in my cubicle."
Having the opportunity to see what their fellow interns did over the last several weeks also demonstrated the breadth of Ambassador Intern activities. "We all knew that everyone has been hard at work, but it wasn't until I actually saw the presentations did I fully understand how different but equally important everyone's role has been for West," said intern Patrick Vincent.
Another closing event for the interns was a visit to the Jersey Shore, PA facility on July 15. The interns from Exton, Pa. and Washington, NJ toured the microbiology lab and manufacturing floor, escorted by their Jersey Shore intern peers. It was an invaluable experience to see all phases of manufacturing West components.
"It's extremely important for the interns to see the people and process involved in making our rubber stoppers, and what it takes to make the products so special," said Marcia O'Connor, Talent Acquisition leader and coordinator of the Ambassador Intern program. "Everyone in Jersey Shore—and in all of our plants—take such pride in what they do, their contribution to the company overall needs to be understood."
As the students prepare to head back to school, West is grateful for the contributions that the Ambassador Interns have made over the last 10 weeks and looks forward to next year.