Global Communications
West Welcomes STEM Students throughout the Summer
Since its inception in 2011, the Downingtown Science, Technology, Engineering and Mathematics (STEM) Academy has quickly earned the ranking as the number one high school in the state of Pennsylvania. With the STEM Academy located in the same district as West's corporate headquarters, and a strong corporate culture of giving back to the community, a partnership between the two organizations was a natural fit.
West collaborates with the STEM academy in a variety of ways that harnesses that spirit of giving while also drawing upon the knowledge base available at West. One example is West's work with teachers at STEM to create lesson plans that are project-driven and student-led. Additionally, West offers STEM students the opportunity to complete their 21 hours of required internship experience at the Exton headquarters over the summer months. The internship, along with 150 "Creativity, Action, and Service" hours, are required before graduation with the goal of creating well-rounded and community-oriented students.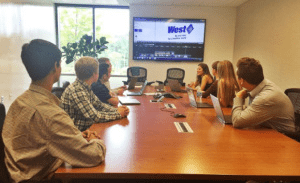 "Having a strong technical talent pool is a requirement for West's continued success," said Karen Flynn, President, Pharmaceutical Packaging Systems. "If we want to ensure that students are prepared to earn advanced degrees and pursuing STEM careers, we need to support them early on."
This year, 10 STEM students have been invited to West headquarters to fulfill their internship requirement over a four week period. The students have an opportunity to get answers to any questions they have about working in a corporate environment and are paired with a college student who is part of the West Ambassador Internship program.
On the STEM students' first day of their internship, they attended a workshop to discuss what they wanted to gain from their experience and what was needed to develop their leadership skills further. Upon their return the following week, students were given time to shadow their mentors and learn about the projects they have been working on throughout their time at West this summer. Finally, STEM students attended a presentation that provided an overview of West's products and the manufacturing processes involved.
"It's very rewarding to see the STEM students engage with the Ambassador Interns, take an active role in preparing for their careers, and doing all of this while they are on summer vacation," said Brian Stocker, Vice President, Human Resources, Americas.
West partners with the STEM Academy through their Business and Industry Advisory Board, which helps steer Academy initiatives and programs, including internships and other field experiences.