Madison Bohn
Exton Communications Team Intern
Congratulations 2016 H.O. West Scholarship Winners
West is pleased to congratulate the recipients of the 2016 H.O. West Foundation academic scholarships. This year the H.O. West scholarship program received 34 applications from among the many regions where West facilities are located and granted one scholarship for every four applications received.
"It is incredible to see such talented students from among our West family," said Annette Favorite, Senior Vice President & Chief Human Resources Officer. "It is equally gratifying that the H. O. West Foundation can help them achieve their educational goals and career aspirations."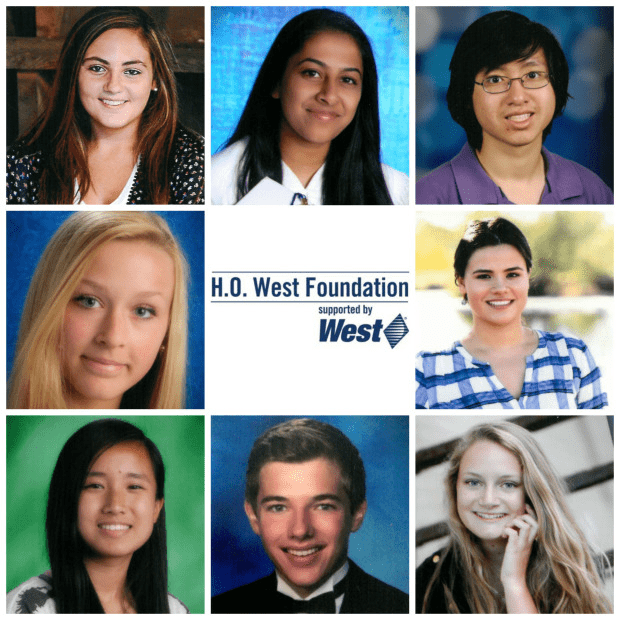 The West scholarship program was established in 1972 to honor Herman O. West, the founder of West Pharmaceutical Services. Each year, the program offers the children of West's full-time U.S. employees the opportunity to compete for a scholarship to a four-year college, two-year college or technical school. The scholarship is valued at up to $3,000 per year.
Winners were selected by West's independent selection committee, which considered the student's academic excellence, ACT/SAT scores, grade point average, class rank, honors and advanced placement courses, as well as an essay. All high school seniors of U.S. employees are encouraged to apply.
West commends the eight students that received the 2016 H.O. West Foundation scholarships and wishes them good luck in their educational endeavors:
Keri Bremigen: Williamsport, PA, Misericordia University
Galen Kardinal: Rockford, AZ, Coe College
Katherine Kornienko: Exton, PA, University of Delaware
Pallavi Kulkarni: Exton, PA, University of Delaware
Melissa Ling: Exton, PA, Penn State University Schreyer Honors College
William Ngo: Clearwater, FL, Carnegie Mellon University
Erin Snyder: Grand Rapids, MI, University of Michigan
Alexander Weck: Exton, PA, Duke University