Brian Kenny
Director, Emerging Biotech, EMEA, Sales
West and NIBRT Host Educational Event
Patients rely on drug products to help protect their health and prevent complications. Pharmaceutical manufacturers rely on a drug product's primary packaging container and delivery system to maintain the drug quality and ensure that their drug is delivered safely and effectively. But like any drug product, there are risks associated with containment and delivery systems.

On February 23, West hosted a training event, "Understanding Risks Associated with Containment and Delivery Systems Across the Biologic Product Lifecycle from Formulation to Commercialization" a joint presentation from West, Patheon and the National Institute for Bioprocessing Research and Training (NIBRT).
The purpose of this symposium was to bring about awareness of the important characteristics of materials, processes and components of containment and delivery systems that protect and deliver biologic products and ensure manufacturability. This one-day event provided the opportunity to understand the role of containment and delivery systems, as well as hear more about unmet patient needs. A discussion forum on how alliances can be built to facilitate speed to market, enabling comprehensive product and process understanding, was a key outcome of the event.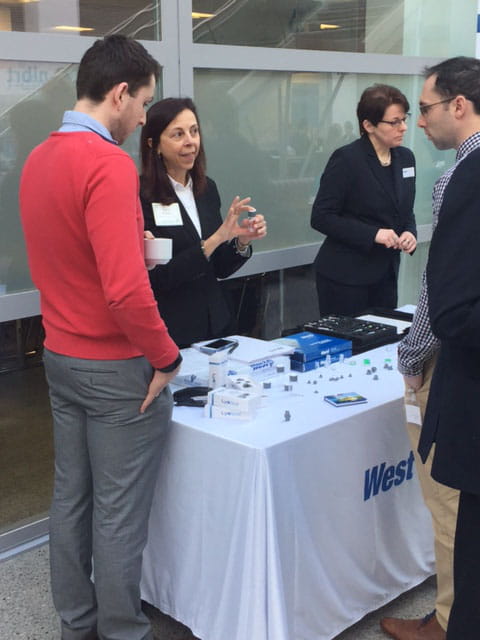 West provided insight on:
The role of containment and delivery systems

Visible and sub-visible particulate

Risks for biologic de-stabilization or degradation when in contact with various materials

Assessment of extractables and potential for leachables

Assurance of sterility through integral containment systems
NIBRT, a global center of excellence for training and research, specializes in training bioprocessing professionals and those interested in container closure systems that protect sensitive biologic drug products and delivery systems. West initiated a partnership with NIBRT in 2016 as part of the European Emerging biotech strategy and has since evolved to a broader collaboration to conduct leading research on the development and manufacturing of innovative biopharmaceuticals. Patheon, an end-to-end supply chain provider for pharmaceutical and biopharmaceutical companies, presented options for fill-finish operations and tech transfer verification.

The February event had 42 attendees, representing 25 companies--including mature biologics and emerging biotech firms, primarily from the UK and Ireland. This allowed West to gain valuable insight regarding the needs of customers in Europe.

The event was a great way for West's technical experts to share their insights, and at the same time, gain insight from customers who are developing and manufacturing advanced biologics drug products. The key learnings that came from the NIBRT event will help West overcome challenges and continue to set the highest standards in this marketplace.

Where will West be next? Check out our Events page for more information.