Carol Mooney
Director, Strategic Marketing, Biologics
Introducing West's Online Store
West is pleased to announce that our new Online Store is now available on westpharma.com! The Online Store is a one-stop solution for access to small quantities of some of West's highest quality products available ready-to-use in convenient small packs.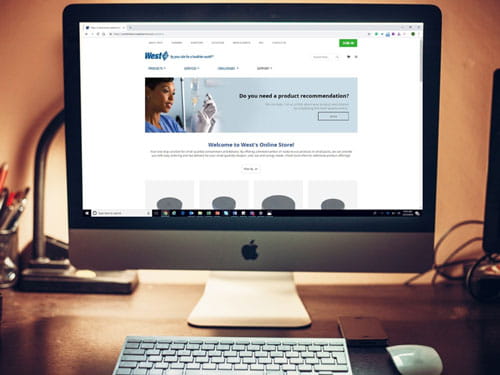 "For customers, the Online Store represents a new way of doing business with West that offers the convenience of product knowledge and information with the ability to purchase small quantities quickly and easily," said Silji Abraham, Chief Digital & Transformation Officer. "We are meeting the needs of the marketplace to provide customers with buying options and information in a digital format that will make West a more valuable partner and industry leader."
Designed with customer needs in mind, the Store enables online purchasing of small quantities via credit card (American Express, Visa, Mastercard), as well as access to the supporting information needed to make a buying decision, including:
- Uncontrolled Drawings
- Master Specifications
- Sample Certifications
- Packaging Images
- Per Carton Pricing
As an extension of Westpharma.com and the Knowledge Center, the Online Store will make it easier than ever for customers to determine the right product for their needs. Stopper, vial and seal items are a minimum of 500 pieces up to 5,000 pieces depending on the item. Prefillable System components range from 600 pieces up to 10,000. During the checkout process, shoppers can select from three UPS shipping services of their choice. Orders will ship within 5 days of acknowledgment. A convenient "My Account" feature includes Past Order Details for easy access to order-related documents and UPS tracking information.
We're always working to improve the site, and shoppers will soon be granted automatic access to the Knowledge Center's Online Technical Customer Support Portal, which offers in-depth technical content and adds to the insight found in our Technical Repository.
"The Online Store is a direct response to the needs voiced by our customers for an alternate sales channel that moves as fast as they do," said Graham Reynolds, Vice President, Strategic Partnership & Business Development. "It delivers on our promise to make it easier for customers to do business with West."
To access the store, click here.