T. Page McAndrew, Ph.D.
Director, Scientific Communications
By Your Side for Industry and Regulatory Trends
West strives to be the world leader in the integrated containment and delivery of injectable medicines. The achievement of this goal relies on many factors, including a heightened awareness of industry and regulatory trends. By being able to anticipate these trends, West is better able to support its customers with the knowledge and services needed to ensure that drug products reach market on schedule.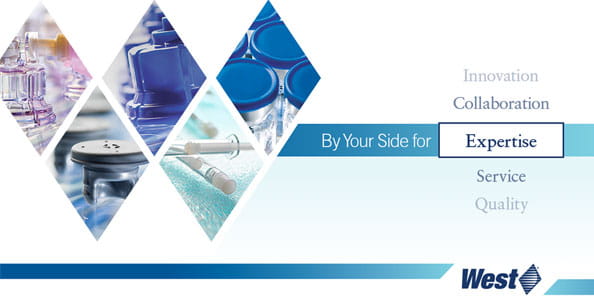 Take, for example, United States Pharmacopeia Chapter <1207> Package Integrity Evaluation – Sterile Products. Published in 2016, the chapter specifies methods to measure the container closure integrity (CCI) of container/delivery systems. In particular, it advocates the use of deterministic methods (e.g., trace gas leak detection), as opposed to probabilistic methods (e.g., dye ingress). Anticipating publication of <1207>, West equipped its laboratories with the facilities, and the staff, needed to perform the specified methods, and upon publication, West immediately offered public comment:
As a result of these and similar efforts, Customers know that West is by their side – not only for advice on what to do, but how to get it done. This supports the goal we all share – safe and efficient delivery of drug products to the patients who need them.
#SimplifytheJourney #WestByYourSide