Elizabeth Crawford
Associate Specialist, Global Communications
By Your Side: Celebrating and Supporting Women at West
This March, West joins corporations around the world in celebrating International Women's Day and Women's History Month to recognize the social, economic, cultural and political achievements of women. As a STEM (Science, Technology, Engineering and Mathematics) employer, West takes its responsibility to engage women in these traditionally underrepresented career paths seriously. With programs focused on the recruitment, retention and development of female talent, we are passionate about continuing to build an empowered and inclusive culture.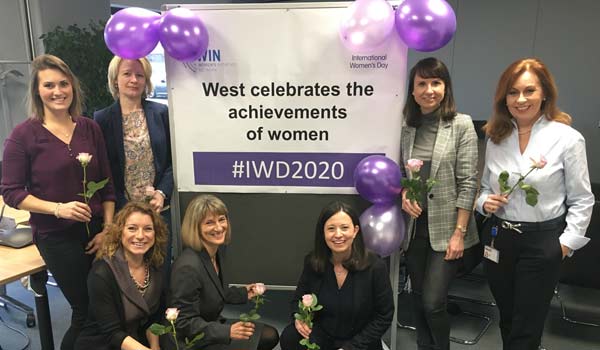 West invests in a number of programs to support the development of our team members, including our network of Employee Business Resource Groups (EBRGs). The Women's Initiatives Network (WIN) EBRG was founded in 2014 with a mission to support women's professional success and leadership potential through mentoring, education and networking opportunities. All West team members, women and men, are encouraged to join and support WIN. There are currently 8 active global WIN chapters, with our India sites launching their WIN chapter earlier this month.
West is proud of this EBRG as it is an important piece of our company's strategy around inclusion. Over the years, WIN has brought in notable speakers, driven important conversations, shared relevant information and offered programs to help the next generation of women leaders thrive at West. Eric Resnick, VP & Chief Technology Officer, serves as WIN's executive sponsor and recognizes the need to continue championing the development of women at West. "To break the chains of protecting the status quo, leaders need to surround themselves with a diverse team to help develop, articulate and implement change. Programs like WIN will help West to continue building a pipeline of talented women and supporting them through all stages of their careers."
To further enhance inclusivity, West offers a flexible and progressive work environment with options including expanded parental leave, transitional leave and alternate work arrangements. In 2018, West was recognized for this initiative with the Corporate Champions of Change Award from the Chester County Fund for Women and Girls (CCFWG). The award acknowledges companies that actively advocate for female team members by encouraging women to pursue leadership roles and offering valuable mentorship opportunities.
West pledges to continue building a culture that is rich with diverse people, talent and ideas, as we support our customers in working towards a healthier world for patients. We are proud that West's Board of Directors is comprised of more than 25% women, and that more than 35% of our C-suite executives are women and/or U.S. minorities.
We invite you to bring your unique talents to West and join our team. Click here to learn more about career opportunities at West.
#WestByYourSide #WhyJoinWest #IWD2020