Gillian Power
Specialist, Global Communications
Israel Makes Generous Donations to Three Local Charities
Our team in Israel, along with the rest of the world, have had a very challenging time due to the COVID-19 pandemic. In Israel, charities supporting youth in need have found this time to be particularly tough. As a result, the team came up with a novel and environmentally friendly solution to help support some of the youth in their local community.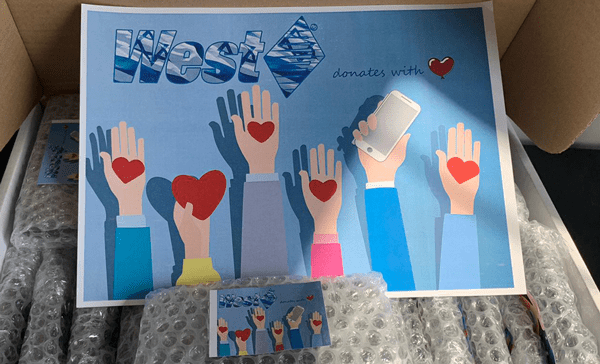 Recently, West Israel received new cell phones as part of a routine upgrade. Rather than dispose of the old devices, they decided to fix, clean, and add some nice cases, and then donate them to the following three charitable groups that directly support youth in need:
ELEM - Youth in Distress, delivers a unique mix of programs designed to meet the needs of teenagers and young adults (in conjunction with local authorities, government ministries and third sector organizations). ELEM organizes around 80 initiatives in Israel each year, benefitting over 20,000 teenagers and young people.
Otot: Beit Dror - provides a safe place for LGBT youth at risk in Israel. They provide accommodation for 80 young people each year who have been forced to leave their homes due to a lack of acceptance because of their sexual or gender differences, or for other related issues. The charity offers them a hot meal, a place to sleep, and people to talk to, as well as other important services to help them move forward with their lives.
The Engels Initiative – Mali, works to assist aspiring entrepreneurs in turning their ideas into social ventures in order to enhance Israel's social and environmental conditions.
Roee Ben-Israel, Site Director, commented on the donation, "I am extremely proud of how the team came up with the idea of donating obsolete devices and how this will go to benefiting the young people in our community, in a variety of ways."
This kind gesture from the team exemplifies our value of One West Team, and how thinking outside of the box allows us to aid those in our community who are most in need.