Global Communications
Exton Headquarters Achieves LEED Gold Certification
It's official – the West Exton Headquarters building has been awarded Leadership in Energy and Environmental Design (LEED) Gold Certification from the US Green Building Council. LEED is an internationally recognized accreditation program that rewards best-in-class strategies and practices for the design, construction, operations and maintenance of environmentally friendly buildings. The Gold certification demonstrates to customers and the community that West is committed to its goals of sustainability.
"Constructing and operating the building and managing the project in accordance with LEED requirements ensures that we minimized the impact to the environment, incorporated design attributes to promote employee health and maximized the energy efficiency of the building," said Greg Warner, Director Operations Facilities. "Incorporating these LEED attributes results in a healthier environment, employee well-being and lower operating costs."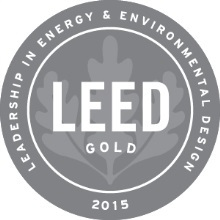 The Exton headquarters was designed to maximize energy efficiency and minimize water use, and building materials were selected to minimize environmental impact through the use of recycled, natural and low-emitting products.
A smoke-free environment, the site design promotes the health and wellness of employees with natural lighting, bicycle storage and a fitness center. To help promote sustainability inside and out, materials such as the cork walls, rubber flooring and ceramic tiles were chosen, and native plants were used to eliminate the use of an irrigation system. Recycling in the cafeteria and throughout the building also helps West achieve and maintain this important accreditation.
West is committed to environmental sustainability and recognizes the importance of sustainability as part of our Company's continued success. Congratulations to all those who helped to make this happen.
For more information about LEED Certification, visit http://www.usgbc.org/certification.