Elizabeth Crawford
Exton Communications Team Intern
STEM Academy Students Visit West's Headquarters
Students from the Downingtown STEM Academy, ranked the most challenging high school in Pennsylvania by the Washington Post, shadowed West's Ambassador Interns during the week of June 26. Interns Andrew Ciciriello, Beth Crawford, Marissa D'Amelio, Neal Geosits, Hannah Grubb and Luke Lawn were each paired with a student and asked to mentor them on career options and the transition from high school to college.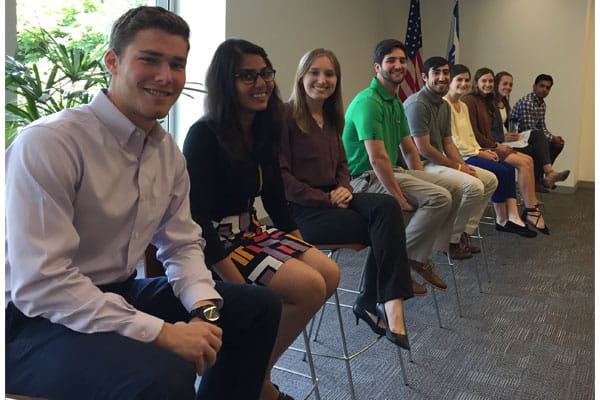 With the help of West employees, the STEM students explored several areas of West's business that aligned with their interests, ranging from Biomedical Engineering to Marketing. The time spent at West fulfilled the students' STEM Academy graduation requirement of writing a practicum based on a real-world internship experience.
The three-day program began with the students discussing goals for their time at West and how to accomplish them. Students also had the opportunity to learn about West's scientific affairs and research capabilities by taking a tour of the Analytical Lab. Another highlight was the "STEM to Intern" panel in which STEM students had the chance to ask a larger group of interns about the college admissions process and working in the corporate environment.
One of the final events of the program was a presentation given by Erica Brim, from West's Learning and Development team, on "The 7 Habits of Highly Effective People." The presentation concentrated on the third habit – Put First Things First. STEM students, as well as West interns in attendance, discovered ways to prioritize commitments more effectively, with a focus on the time management skills necessary for success in college.
In the spirit of the Company's mission of giving back to the community, West is honored to aid in the development of the next generation of STEM talent in the same school district as West's Corporate Headquarters. Although the STEM students shadowed the interns, it was also a learning opportunity for West's interns to reflect on their college careers and professional lives. Sharing their collective knowledge with the STEM students was certainly a rewarding experience and a highlight of the internship program at West.
Learn more about West's culture of giving here.