Simon Meurer
Manager Technical Customer Support Europe
West Flip-Off® Seal Technologies: Enhanced Production and Consistent Button Removal
Uninterrupted production on a high-speed filling line is a challenge. To help make this easier, West has developed Flip-Off® seals. Flip-Off seals are produced with the highest quality aluminum and plastic materials, and the TruEdge® manufacturing process.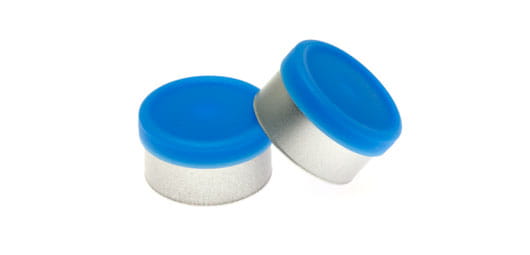 The TruEdge® process, unlike the conventional single-stroke process, forms the aluminum shell with multiple strokes at progressive stations. This provides for excellent reproducibility in dimensions, and an extremely smooth and even bottom edge – all of which promote high-speed sealing. Moreover, the TruEdge® process eliminates the issue of earing (i.e., uneven, scallop-like bottom edge). Easy and uniform button removal is assured with West's bridge technology (the bridge is the small set of strips of aluminum that connect the colored button to the shell – it breaks when the button is removed), that is very compatible with newer crimping equipment.
At West, patient safety is the highest priority. Development of new products (such as Flip-Off® seals) is always focused not only on this, but also most effective delivery of drug product. For more information, please contact the West Technical Customer Support team, who can help to recommend the right Flip-Off® seal product. In addition, West's Flip-Off® seal color configurator offers a unique online option to create a colorful combination for drug products. Try it here.
Flip-Off® and TruEdge® are registered trademarks of West Pharmaceutical Services, Inc., in the United States and other jurisdictions