Aileen Kinsella
Director, Segment Marketing
Top 3 Things Drug Companies Should Know When Choosing a Packaging Partner for Diabetes Medications
When left untreated, diabetes eventually can lead to a variety of issues for patients, including complications such as stroke, blindness and heart and/or kidney disease. In addition, adherence to painful or inconvenient injection treatments can be difficult for patients, with as many at 57% of Type 1 and Type 2 diabetes patients admitting to intentionally skipping injections.1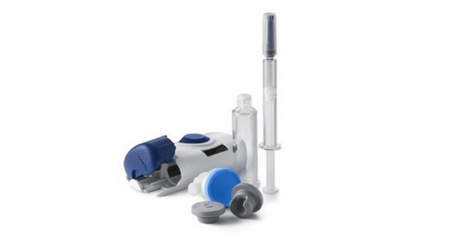 New research into biologics has helped to develop options for a number of chronic conditions, including diabetes. High-quality containment and delivery systems may help make diabetes treatment better for patients. In addition, for pharmaceutical manufacturers, high-quality products can provide tighter break-loose and extrusion forces, and improve manufacturability.
Drug companies should seek out packaging and delivery development partners with the following qualities:
Adoption of QbD Design Principles

QbD principles help to ensure that containment and delivery systems are designed with the patient in mind. Driven and supported by regulatory guidance, QbD delivers an improved, data-driven output that provides manufacturers with superior product and process understanding that minimizes risk, emphasizes patient-critical quality requirements and maximizes drug product effectiveness.

A Patient-Centric Approach to Delivery

Injections can be painful. Human factors testing of delivery systems and devices can help to ensure that issues such as delivery time, dose volume, and even the look and feel of the device or system are beneficial to the patient. Drugs won't work in patients who don't use them, so making drug delivery an easy, consistent, and discreet option will help patients stick to their therapeutic regimens.

An Eye on Connected Health

Smartphones are everywhere. Mobile devices and tablets are in constant use. So why not make them work for patients? By connecting dose delivery to a software as aservice platform that tracks and rewards adherence, diabetes patients may improve their overall health. Unique gamification technologies can reward and educate patients, while incentivizing them to continue their treatment and encouraging adherence.
With the right focus on quality systems, patient-centric delivery systems, and unique connectivity to enhance adherence, pharmaceutical manufacturers can provide patients with powerful systems that may help resolve the more challenging problems associated with self-care for chronic conditions. By selecting the right partner, pharmaceutical companies will not only provide a unique product to patients, but also help them care for their condition.