Tiffany Burke
Director, Global Communications
Welcome to the new WestPharma.com!
We are very pleased to introduce our newly redesigned and enhanced website: www.westpharma.com.

Our commitment to customers guides everything that we do – and our website is no different. The new and improved site offers a fresh look with easy navigation, mobile optimization and expanded digital capabilities to improve the customer experience.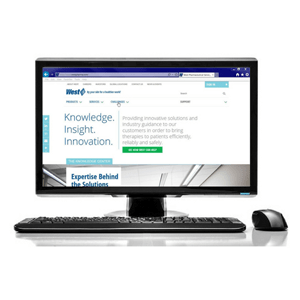 As you explore the site, you'll find new and updated content that showcases West's expertise and innovation, backed by our more than 90 years of experience in injectable drug packaging and delivery. A few highlights of the new website include:
The Knowledge Center – This easy-to-use online library provides insights into the science behind the containment and delivery of injectable medicines through technical reports, bulletins, scientific posters and presentations, as well as third-party publications.

Challenges – This section outlines some of most common market challenges in injectable drug containment, delivery and manufacturing, and offers practical solutions.

Drug Development Solutions – Drug packaging and delivery needs evolve as a drug product progresses through the drug development lifecycle. Check out this interactive timeline to review important considerations for drug packaging and delivery at each phase of a product's lifecycle, from Pre-Clinical through Generic Entry.
You'll also find easy-to-navigate Product and Services pages, showcasing our innovative portfolio of offerings for customers across the globe.
While you're visiting the website, check out our community initiatives, career opportunities and upcoming events.
We look forward to continuing to evolve this invaluable resource.