Deirdre Swinden
West Announces New Extensions of the SmartDose® Drug Delivery Platform
West is pleased to announce new extensions of the SmartDose® drug delivery platform, including several new wearable injectors that allow for up to 10 mL of volume to be injected in easy-to-use, wearable formats. The new devices were showcased at the annual PDA Universe of Pre-filled Syringes and Injection Devices conference in Vienna, Austria, in November.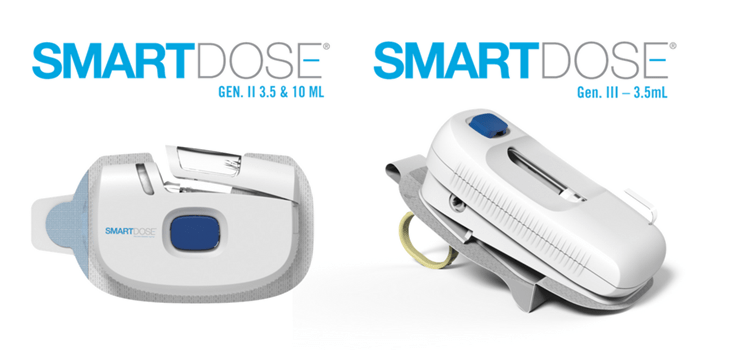 "Advancements in drug development need to be paired with advances in drug delivery, such as last year's FDA approval of the first combination product using our SmartDose drug delivery platform. Based on this technology, we are now excited to share our expanded portfolio of SmartDose wearable injectors," said Eric Resnick, Vice President and Chief Technology Officer at West in a recent press release. "As our customers continue to innovate and bring to market exciting new therapies to address important unmet medical needs, West is ready to help them with advancements in drug containment and delivery and technical expertise to guide them through the drug development and approval process."
West's SmartDose drug delivery platform allows patients to self-administer medication in accordance with their prescribed treatment. West developed this wearable device with extensive human factors testing and analysis to understand the interaction between the patient and the delivery system. All versions of the SmartDose platform adhere to the patient's body, usually on the abdomen, so patients can be hands free during administration.
The SmartDose platform offers an variety of integrated solutions for delivery and containment featuring a silicone-free Daikyo Crystal Zenith® cartridge and a FluroTec® coated piston containment system. West has built upon the success of the Generation (Gen. I) device to address market needs for higher dose volumes and enhanced functionality and usability.
West now offers the following options for development:
SmartDose Gen. II device, a system that can accommodate injection volumes of up to 10 mL as well as both glass and Daikyo Crystal Zenith containers
SmartDose Gen. III device, a preloaded version, that reduces user steps and simplifies supply chain. Both versions will be featured at the conference.
For more information about any of the SmartDose drug delivery platform devices or self-injection systems, contact West today.