James McCaw
Scientist, Container Closure Integrity
Methods in Measuring CCI – Part II: High Voltage Leak Detection for Syringe Systems
The pharmaceutical industry is shifting toward pre-filled syringes (PFS) as the optimal delivery system for many drug products. The utility of a syringe system is dependent upon its ability to maintain good container closure integrity (CCI) through drug product shelf life.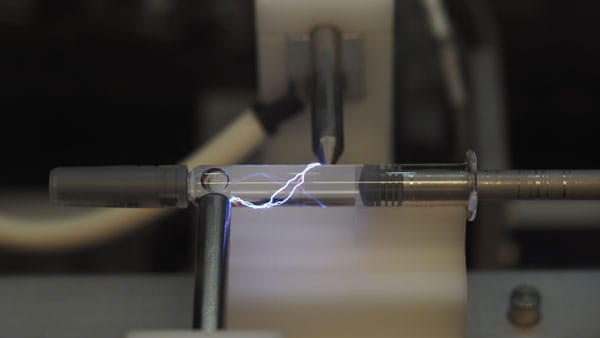 CCI failure presents a risk to patient safety – thus the ability to measure CCI is critical. USP <1207> (Package Integrity Evaluation – Sterile Products) endorses several deterministic methods; one of which, high-voltage leak detection (HVLD), is very well suited to syringe systems. HVLD equipment operates by moving a high-voltage probe along the length of a syringe; a defect (as small as 2 microns) usually results in a visible discharge through the fluid in the syringe system, however the position of the defect is always recorded.
HVLD can be useful for detecting a defect between the syringe body and plunger. West has full capability to measure CCI by HVLD, including a state-of-the art system suitable for polymer-based syringe systems with non-conductive fluids. This capability includes development and validation of a unique method for each syringe/drug system.
The scientists at West are available to help customers determine how HVLD can best serve them – from study design through execution – to ensure that West syringe components and customer drug products combine to fully meet the goal of patient safety. For more information on West Analytical Lab Services, visit our website or contact us.