West's Global Communications Team
West Employees in St. Petersburg, Florida Raise Funds to Support the Children's Cancer Center
As a caring corporate citizen, West has established a long-standing tradition of supporting the communities in which we work and live. Our comprehensive philanthropic efforts include three programs: 1) corporate giving through West, 2) the Herman O. West Foundation, a separate 501(c)(3) entity, and 3) our employee-led fundraising program, West without Borders.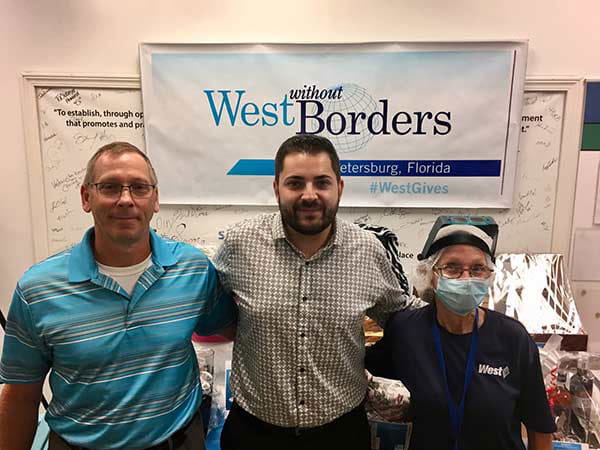 Every spring, each West location around the globe coordinates their own West without Borders campaign, selecting a charity that is important to and agreed upon by the employees in that location, and then organizes various activities and opportunities to raise funds.
Recently, the employees in our St. Petersburg, Florida location concluded their 2018 West without Borders campaign with impressive results. The St. Petersburg employees selected the Children's Cancer Center as their charity. From May 1-24, 2018, the local West without Borders committee collected donations from employees through three creative fundraising opportunities, including:
Reserved Parking: Ten coveted parking spaces were reserved and auctioned off to the highest bidders. The winning recipients' names goes on a West without Borders Donor sign that's above the parking space.
Basket Raffles: For the 10th year, employees formed groups to create fun gift baskets that employees could then try to win through purchase of raffle tickets. From lottery tickets to a Disney hotel stay, the baskets and employee generosity went far beyond expectations.
Job Swap: For a $100 donation, a manager and their employee could swap jobs for the day!
Together, the fundraising activities result in a donation of over $20,000 from St. Petersburg employees, surpassing their goal of $16,000 in the first two weeks. These employee donations will be matched by the Herman O. West Foundation, ultimately sending more than $40,000 to the Children's Cancer Center. These funds will support various programs including the Oncology Family Connection Group, which is a weekly dinner event where families can lean on one another and share their struggles and triumphs. In addition, the funds will sponsor speakers who visit the classrooms of students with cancer to educate their fellow classmates about their illness.
To learn more about philanthropy at West, click here.
West without Borders is not affiliated with Doctors Without Borders®, which is a registered service mark of Bureau International de Medecins San Frontieres.