West Communications Team
West Corporate Responsibility Report: Diversity
At West, we are committed to attracting and retaining a diverse and inclusive workforce. We understand that diversity is key to our success and know that a diverse workforce leads to greater innovation, more opportunities, better access to talent and stronger business performance. We encourage a culture of mutual respect, where everyone feels valued and respected and can bring their authentic self to work every day, helping to foster an environment that enables our team members to stay energized, focused and committed to doing their best.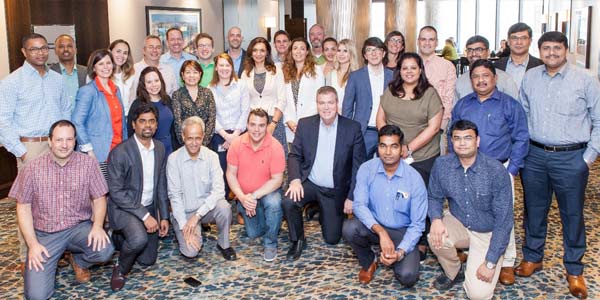 Code of Conduct
The Company prohibits and does not tolerate discrimination or harassment of any team member, customer or service provider because of age, race, color, religion, sex, ancestry, national origin, military service or application, marital status, citizenship status, physical or mental disability, genetic information, sexual orientation, gender identity or expression, or other protected characteristic under applicable laws.

Diversity in Leadership
Over the past several years, we have conducted a variety of diversity and inclusion trainings as well as unconscious bias training for our Senior Leadership team. This training helps not only to increase awareness and knowledge, but also encourages our leaders to bring out the best in their team members, helping to break down any potential barriers, enabling everyone to work together as a productive "One West" Team.
Research has shown that organizations with diverse and gender-balanced boards of directors, specifically, boards that consist of at least 30% women, can lead to improved financial performance for that organization. Today, 30% of West's Board of Directors is comprised of women. In addition, four out of the nine C-suite executives at West are women and/or U.S. minorities, and the population of senior leaders who are women or U.S. minorities has grown by more than 10% since 2016.
Diversity in the Workplace
We are continuously working to deepen our cultural competence to enhance inclusivity in the workplace. We achieve this by driving accountability for inclusivity and cultural sensitivity, emphasizing expected behaviors, and embedding diversity and inclusion in business objectives. We also embed inclusion strategies into existing programs such as the onboarding of new team members, management training, succession planning, affirmative action plans, recruitment materials, and enhanced global mentoring, including an all-female high-potential coaching cohort.
We are proud of the progress we have seen in our Women in Networking Employee Resource Group (ERG), which currently has active chapters in the United States in Exton, PA and Arizona, as well as Singapore, Germany, Ireland and South America. We strive to expand our ERG structure with the goal of adding one new ERG per year over the next three years.
Attracting, Developing and Retaining Top Talent
Increasing our ability to attract, develop and retain underrepresented talent at all levels of the organization, with a particular focus on women, is vital to West. It is an ongoing focus to integrate diversity and inclusion strategies in talent acquisition, performance and talent management, resource planning and leadership assessment. We embed diversity and inclusion strategies in our recruitment branding and internal messaging and continue to cultivate relationships with external organizations and partners to source diverse talent.
At West, we strongly believe in continuous learning and developing our internal talent, providing opportunities for our team members and enabling us to build talent from within. Initiatives implemented to enable the development and retention of the West team includes:
Manager training programs.
Succession planning to help identify high-potential team members.
Learning Management System, which provides thousands of online training and education classes for West team members across the globe.
More flexible and progressive work environment to help retain our team members, such as expanded parental leave, transitional leave and alternate work arrangements.
Investing in our future workforce. West offers a summer Ambassador Internship Program, which has resulted in 64 current team members who have been hired full-time out of the program since it began 10 years ago.
Click here to view the full 2018 Corporate Responsibility Report.