Victoria Morgan
Director, Segment Marketing, Global Biologics
Industry Trends in Biologic Formulations
In 2018, we saw a record-setting year for new-molecular entity (NME) approvals (59) at the FDA1 versus 46 in 2017. 58% were for orphan drugs (patient population less than 200,000 in the US) with 17 biologic-based NME's. Biosimilars are gaining traction in Europe, in particular. Major factors that are driving the market growth are next-generation business, high growth in chronic diseases, less expensive biosimilar drugs and favorable government regulations.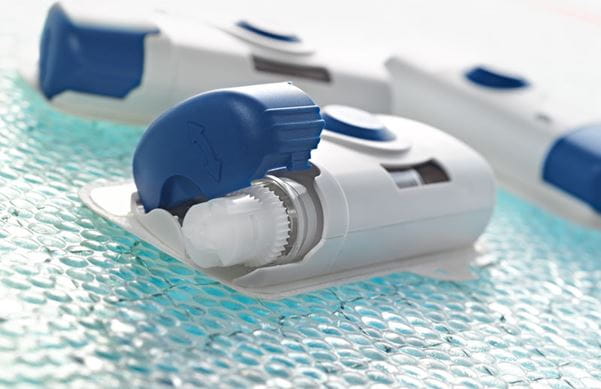 There is a surge of interest in flexible fillers and packaging components that support this style of production. This technology lends itself well to small batch biologic production in multiple format presentations. If a pharma company can switch nimbly to a flexible filler, they can maximise production floorspace, have higher utilization rates on capital equipment and produce high quality, small batches.
The scale up of biopharmaceutical production has seen a radical shift away from large scale, stainless steel production equipment which takes time, personnel and, ultimately, money to maintain and utilize. This change away from large scale production to single use, disposable technologies and components, such as bags and bioreactors, drives to higher quality, faster delivery and lower cost production. These changes will bring into the realms of possibility reduced cost of biologics manufacturing.
Let us always consider the patient's influence on the pharmaceutical market. Patients have never had a louder voice or more information about the advancements in disease management than now. Patients are aware of possible radical, life-changing treatments, including curative advancements, which puts pressure on those who are under pressure to fund one-off payments for curative medicines. This is a novel concept for "pay-per-pill" organizations. Given this factor, as well as other factors, pharma companies must be very mindful of drug pricing like never before.
As biosimilar competition increases, so will the pressure to reduce biologics manufacturing costs, leading to a continued increase in the number of approved biologics. We will see more outcome-based pricing as consumers are under ever increasing pressure to stretch their funds. There will be a fundamental shift in culture of home versus clinic administered medicines, primarily driven by lowering overall costs and patient preference. Curative type medicines will be more commonplace alongside even less frequent dosing regimens. Data collection and analytics will allow revolutionary change in the way healthcare organizations follow up with patients after a hospital discharge or a routine check-up. Artificial intelligence will continue its current trajectory for use in pre-screening of patients for clinical trials to reduce failure rates, along with the use of genetic biomarkers for patient prescribing and clinical trials inclusion.
West offers the SmartDose® platform of drug delivery devices to meet a variety of wearable, subcutaneous delivery needs. Click here to learn more about how the platform can enable delivery of your drug product.
SmartDose® is a registered trademark of West Pharma. Services IL, Ltd., a subsidiary of West Pharmaceutical Services, Inc., in the United States and other jurisdictions