West's Communications Team
West Corporate Responsibility Report: Environmental Sustainability
West is proud to announce that its 2018 Corporate Responsibility Report has been published and is now live on the West website. This report provides a summary of West's efforts in six key areas including Compliance and Ethics, Philanthropy, Diversity, Health and Safety, Environmental Sustainability and Quality. Below is Part One of a blog series where we look a bit closer at each of our focus areas in the Report, beginning with our commitment to Environmental Sustainability.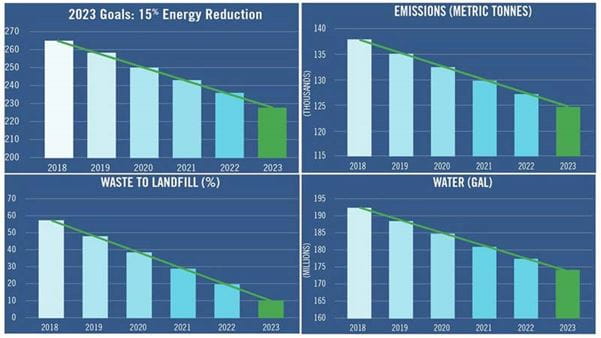 As a company committed to working by the side of our customers to improve patient health, it's natural that we are also committed to helping create a healthier environment. We strive to be stewards of a sustainable future by factoring environmental considerations into every aspect of our business and believe that sustainable practices are directly related to sustainable economic performance and the creation of healthy communities.
Our Sustainability Program targets reductions in areas we feel we can make the greatest impact: greenhouse gas emissions, waste, energy and water usage, and increased recycling. We are proud to report that our 2020 goals for both water and emission reduction have already been achieved, so we have we have committed in 2019 to a five-year strategy with new goals to be achieved by 2023.
Through recycling diversion projects, we are working on ways to divert waste from landfill and energy recovery, to more beneficial re-use channels. In pursuit of zero waste-to-landfill, we have put a goal in place to achieve a global landfill diversion rate of 90% or higher by 2023.
In addition, we continue to evaluate renewable energy procurement opportunities. This effort will enable West to utilize alternative energy sources, helping to reduce our carbon footprint.
While we work hard at the global level to set corporate strategies, each of West's manufacturing sites are also working hard to improve in areas where they can make a difference in their community, with each site currently working on between 10–15 sustainability improvement projects. These projects include the utilization of LED lighting, optimizing HVAC systems, steam efficiency improvements and utilizing exhaust heat recovery, among others.
When planning new construction, principles of Energy Efficient Design (EED) are factored into the design process. For example, West's headquarters building in Exton, PA achieved Gold LEED certification when it was built, and our Waterford, Ireland site, completed in 2018, uses state-of-the-art equipment and design efficiencies to ensure the utmost in care for the environment. Taking advantage of outside air temperatures to assist in heating and cooling, capturing and reusing heat to efficiently heat water, HVAC heat recovery and dry cooler water systems are some of the innovative ways West has built sustainability into its Waterford facility.
West is an active member of several organizations that promote accountability, and we work to stay connected with others in the industry. In 2018, West maintained the Gold Standard from EcoVadis, a leader in supplier sustainability ratings, placing us in the top 5% of reporting companies. West is also active in partnering with the UNGC, PSCI, CDP, GRI, and others (see page 6 for more details on each of these organizations).
Click here to view the full 2018 Corporate Responsibility Report.