Jessie Zhang
Manager, Global Communications, AP
West's Culture of Giving Continues at the New Digital Technology Center
In March, West presented the Sri Shankara Cancer Hospital with a donation at the opening of West Digital Technology Center (DTC) in Bengaluru, India. These funds will support patients who need financial assistance and who would otherwise not be able to afford their cancer treatment.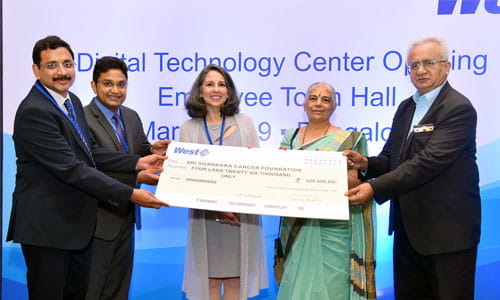 Dr. Kishore Murthy, Director of Sri Shankar Cancer Hospital and Rama Ramamurthy, Manager of Charity Cell accepted the $6,000 (426,000 Indian Rupee) donation at the DTC grand opening presented by West's Sr. Vice President and Chief Human Resource Officer, Annette Favorite, and Chief Digital & Transformation Officer, Silji Abraham."Thank you, West, for supporting our work on cancer research and treatment in Bengaluru" commented Murthy, "I am glad to witness another responsible company like West start up business here. We share the same mission to improve patient lives and we are looking forward to working together with West to contribute to the community we are in."
Sri Shankara Cancer Hospital, located in the center of Bengaluru, was founded six years ago with the core purpose of providing comprehensive cancer treatment to all cancer patients, particularly the underprivileged. The hospital provides state-of-the-art treatment to all cancer patients at an affordable cost.
West without Borders, our team member-led giving program, builds upon our culture of giving back to the communities in which we live and work. Since 2014, the West team in India has been very active through the Sri City Foundation, which provides books and stationery for underprivileged students who are pursuing their education near our Sri City location.
Along with support of location foundations, the team has been incredibly generous in our annual Food Drive. This year, India collected more than 2,400 kilograms of food, which has been distributed to shelters, orphanages and non-profit organizations working to feed the communities in Sri City, Hyderabad and now Bengaluru.
Visit Our Culture of Giving page to learn more.
West without Borders is not affiliated with Doctors Without Borders®, which is a registered service mark of Bureau International de Médecins San Frontières.